Draw Cartoons Like a Pro in Simple
Steps That Even Grandma Can Do It
Home › Draw Cartoons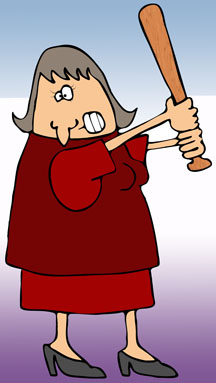 How to draw cartoons is done simply in a step-by-step way. If you can hold a pencil or crayon you can quite easily cartoon.
A cartoon is really a simplified representation of a humorous situation usually with exaggerated features and forms. The ability to cartoon is pretty simple for young and old alike.
Children are born natural cartooners with their creative (and completely uninhibited) flair without any thoughts of "Does it look right?"
Nearly every child has an innate ability to express their creativity and they know instinctively the really fun side of their drawings which is treated lightly without any inhibitions.
Don't we all love this light touch of the pencil which any aspiring cartoonist should try to achieve. Young or old? Anyone, yes anyone can draw cartoons of people or simple things like animal pictures, funny cars or even comic strips. Humorous pictures always bring all of us a much needed relief from our oftentimes daily routine.
You know we all have our own unique handwriting, we're all different—and the same applies to cartooning. Take a peek at the Sunday newspaper cartoon strips, each one has its own individual style.
There's a lot of fun in cartooning than you will find in any other art form. I've often laughed out loud when I've done a political cartoon and exaggerated various features. And this of course always leads into other creative ideas. I will show you how to do this with ease.
Cartoon animation can be quite entertaining as well as educational especially for very young children. A cartoon can teach good manners, how to do things, how to learn the alphabet, how to be creative and to view things from outside the real world. They can even be therapeutic—make you feel uplifted.Laughter is magic that brings in the sunshine!
Any cartoonish thing will help you find a way to escape the real world by making fun of it. That's not such a bad thing is it?
Okay, we've got to start learning all about how to draw cartoons using simple cartoony animals, cartoony house pets and people. Let's start off with an elephant - the largest mammal in the animal kingdom and then go on to other animals.
Draw Cartoons Following These Seven Easy Steps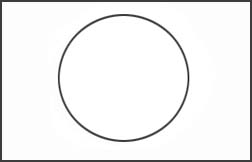 Step One
Draw a simple oval for the main body shape.

---
Step Two
Draw the trunk and tail as shown here.

---
Step Three
Draw in the ear first in a squarish shape then the eye.

---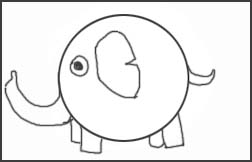 Step Four
Now put in the legs, just straight lines.

---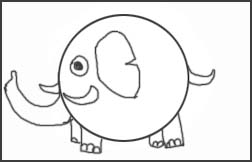 Step Five
Put the tusks in next and the toes

---
Step Six
Now rub out the lines on his legs and trunk.

---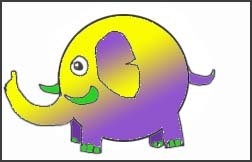 Step Seven
Here you go - just color it in with your brightest colors!