How To Draw Animals The Easy Way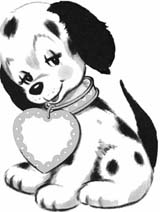 There is a lot of fun in How To Draw Animals and, guess what? It is pretty simple if you know the basics—that's the basic form in any animal drawing. In this How To Draw Animals series, there are basic steps to follow. After you know the basics you can get quite creative as I will show you.
Of course you will need a pencil, an eraser and a sheet of white copy paper. For a 'clean' drawing you will need to have your pencil sharp all the time, so get yourself a sharpener.
Most animals have a body and four legs so we can start off with a few house pets, a dog or a cat. Then we can graduate to those very large animals like an elephant or a mammoth—or, if you like, a fierce looking dinosaur.These will follow on in this How To Draw Animal pages and their will be links added on this page to take you there.
Okay, so let's decide on a dog, just an ordinary-looking hombre we see nearly every day. We can call him Fido. Now Fido has a normal size body shape weighing about 50 pounds or so. So we'll draw his body first as shown here in step one: This is just a simple rectangle which are the basics of all animal structure. Draw these lines in with a bold hand—four strong strokes as here in this first step.
These excercises are applicable to all four-leggeged animals as you will see in some of these web pages.
Baby Bedding Sets Visit Beyond Bedding for all your adorable Baby Bedding needs.
So here we go with How To Draw Animals in six easy steps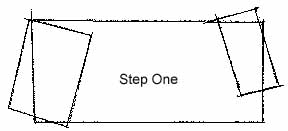 Step One
This is a hand-drawn rectangle so just create a box-like drawing, nothing fancy and freely drawn. All these sketches are made up from squares and rectangular shapes.
---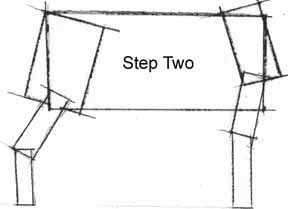 Step Two

Add two smaller rectangles and these are only guidelines as with all the others which you will erase later. Notice they are all rectangles here.
---
Step Three

These rectangles are a lot smaller and you do not have to put them exactly as you see here because later you will add your own creative lines to make Fido look more like your Fido.
---
Step Four
Add more smaller rectangles as seen here which show the beginnings of Fido's legs, neck and head. You can add a slim rectangle for his tail. We don?t want to upset him do we? Can you see how roughly these have been drawn? They can be smoothed out in the final stages so go rough initially it will not matter.
Now erase some of the rectangular guidelines as show in this drawing.
---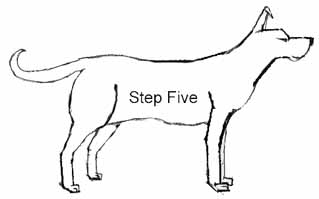 Step Five
At this stage you can now start adding a few curves to show Fido's real form. As with the first step, use bold strokes. It will not matter if they do not seem right. The drawing can be adjusted later. When you draw your curves try and keep near the original guidelines and you will begin to get a 'feel' for Fido's form.
---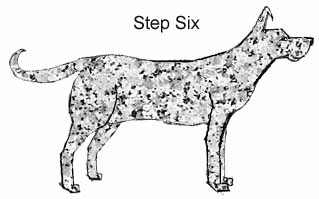 Step Six
Now for the fun part. You can start to add more detail to make him look more like a real dog. Get a felt tip pen and go over the lines you like and show the form of the dog. Then get out your eraser and take out all the rectangular guidelines. Give him a coat like a texture and you're done! Okay, does he look like Fido?
This is just the start, besides how to draw animals, there are many more tutorials here to get you started on a great career in art!