Funny Friendship Quotes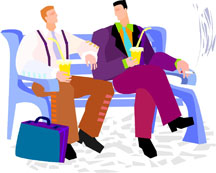 Funny friendship quotes have gained in popularity as many of the funny quotes are used in emails and sent to all of your friends. Of course, you always get some of the funny friendship quotes that have been used over the years, but coming up with new funny quotes has become a past time, especially with the younger generation that make up their own as they go, but leave the older generation scratching their head when trying to uncover the meaning.

Friendship quotes that are timeless, such as Benjamin Franklin's "There are three faithful friends-an old wife, an old dog, and ready money" are short one line funny quotes that still are true to some extent. Oscar Wilde said, "a true friend stabs you in the front," is a one of the short funny quotes that take a shot at some quality in a friend that might poke fun in an underlying tone, like Virginia Woolf said, "I have lost some friends by death, others through sheer inability to cross the street".

Of course, there are funny quotes that indicate how a friend will stick by you, "an old friend will help you move, but a good friend will help you move a dead body", or how about the anonymous funny quotes, "Love is blind, and friendship tries not to notice".

Of course some of the newer versions of funny quotes might make fun of you and your friends, such as "a friend would lend you an umbrella, but a best friend would take yours and say RUN!" or "whenever you're lost and confused, look behind you and I'll be the idiot lost with you" are a couple of examples of newer, less philosophical funny friendship quotes.
"I want to laugh but..."
You can always use the friendship quotes that are rebuttals for those that can't take a joke, "Honest criticism is hard to take, particularly from a relative, friend, acquaintance or stranger". But just keep in mind what it's like to be in another's shoes when you are thinking of funny quotes, "when I see an old lady slip and fall on a wet sidewalk, my first instinct is to laugh, but then what if I were an ant and she fell on me, that wouldn't be so funny". So keep those with touchy feelings in mind before you shoot them funny quotes they might not think are funny.
Some of the funny quotes are the famous one-liners, like "I just thought of something funny...your mother" or "love is grand, divorce is a hundred grand", "don't knock masturbation, it's sex with someone I love" are jokes that are actually shared between married couples with a weird friendship, you would never say something about your friend's mother to their face, would you?
Of course, the elderly have their own version of funny friendship quotes, "an old friend is like an old shoe - they're both old".
Funny quotes can be shared with somebody close to you and they will forgive you. Gail Godwin said, "One is taught by experience to put a premium on those few people who can appreciate you for what you are." Maybe that is part of the funny friendship quote that makes them endure through the years. You can share any kind of humor with your friends and they will either understand it, or act like they do.
Just keep your friend's feelings in mind when you are passing funny friendship quotes like, "a good friend bails you out of jail, a best friend is in there with you", might not say much about either one of you, but then the funny quotes like, "arrogant and right is better than humble and wrong" doesn't either. Funny friendship quotes are meant to be funny quotes to make your friend laugh, so whatever that is, use good taste unless your friend won't think that's funny.
White Childrens Bedding Browse through our extensive product line headlined by leading bedding brands such as JoJo Designs.




---