Free Party Games For The Whole Family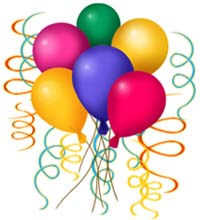 Every gathering is more fun when you have some great free party games for all to enjoy. No matter what your age, games can make your party memorable and help those who are there get to know each other while they laugh the night away. We have gathered some fun free party games to print for your next party.
Be My Hands
What you will need:
some aprons or garbage bags (to cover your guests clothes)
Individual puddings and a spoon for each
Or a toothbrush and tooth paste for each.
How you play: Have some of your guests sit around a picnic table wearing the apron or garbage bag with their hand behind their backs. Have one person stand behind each seated guest and put their arms through the arms of person in front of them so that they can act as that person?s hands.
When someone says "Go" each person who is acting as the hands then tries to feed the pudding (or brush the teeth) of the person in front of them. The first one to finish their pudding or successfully brush their teeth wins, while everyone gets a good laugh. You can then have people trade places so everyone gets a turn.
Scavenger Hunts with a twist
Here's a great free party game. Everyone loves a good scavenger hunt, but if you don?t want to send the kids on a free for all through the neighborhood then try having a video scavenger hunt. Divide the party goers into groups and give each a list of silly things to do or scenes to act out, then send the groups to different areas with a video camera for each team. Have the teams record themselves acting out the things on the list, the first group done wins and everyone gets to have fun watching the videos afterwards.
Penguin Races
All you need for this game is a beanbag or ball of paper for each participant. Have them line up and place the beanbag on top of their feet. They then walk to the other end of the room or yard trying not to drop their "penguin egg". The first one there with their egg still intact wins.
Light as a feather
All you need for this game is a feather for each child. When you say "go", the children blow their feathers into the air. The one who can keep their feather in the air without using their hands wins. You can also do this game in teams and have the teams work together to keep their feather a float.
Don't be a stick in the mud
Everyone remembers playing tag as a kid but with this version the person who is it chases the others, when they catch someone that person is stuck to their spot until another player can make it over to them and free them by crawling through their legs. The last person left stuck in the mud is the next "it"
Who's your mommy
Divide the kids into pairs and give each pair a roll of toilet paper. When you yell "go", one person on each team must wrap their teammate up like a mommy until they are completely covered. The first one to completely cover their teammate wins. After each team has completely wrapped up the other then the unwrapped people pair off again and wrap each other up...now after there is only one child left have them see if they can guess who each mommy is.
Having a party is always fun but it is even more hilarious when you have free fun games to print so that you can all choose what games you want to play and your guests can take the list of free party games home to play with their friends too. To print, press Ctrl+P.
Great Party Games Ideas For The Family