About Me and My Personal Journey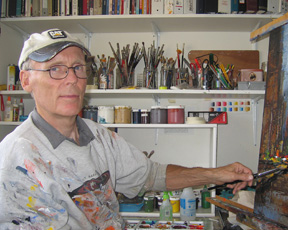 Hi, my name is Jon (short for Jonathon) and I live in the Colorado mountains about half an hour drive from Boulder. It is quite beautiful here at about 8,500 ft above sea level with clean air, lots of wild life and friendly neighbors. Here is a brief story about me.
I started drawing at an early age of about 6 years or so, drawing on newspapers as we could not afford drawing paper and sometimes I was lucky to be given a sketch book. I used pencils and sometimes charcoal and crayons. Poster paint or acrylic paint was unheard of in those days soon after WWII. In primary school I did drawings for most of my class, mainly silly cartoons of the 'other' teachers and my bonus was a cupcake or a ham sandwich and sometimes a Coke was thrown in by my peers. I loved those early days in school.
The demand to create basic line drawings became so great I had to work at home after school, and so my mother went to see the headmaster to ask why I had so much homework to do. I did try to conceal the piles of drawings but eventually my mother found out and put a stop to it, she said "It is in the best interests for your further education."
I think I lost weight during those first two years; it must have been the absence of cupcakes and the occasional sandwich? My mother felt a bit sad when she had to put a stop to it because she knew I loved to draw. Nevertheless, she encouraged me endlessly, the darling.
When I reached my eleventh birthday I did a drawing test to go to an art college—it is a college where we were taught the three R's as well as fine art—the emphasis being on art. (This is now known as a secondary school in Britain) I graduated in art and design five years later. As an adventurous youth of 17 I left Britain for the exotic lure of South Africa and its white beaches, leaving behind the endless rain for the promised sunshine of the southern hemisphere. What a great life it was in South Africa!
During those years I studied printmaking, sculpture, textiles and fiber arts at South Africa's Natal University. Being well versed in textile fiber arts I took up a post in Johannesburg where I taught knitting, weaving and dyeing basics to handicapped children and adults. This was my way to "Pay it forward." The political situation in South Africa forced me to leave and join my family in America.
I started painting murals in New Jersey, word of mouth travels fast and I won a few contract jobs in Boulder, Colorado for about 2 months or so and there I met my wife who was a professor of art at CU. We had an awful lot in common mainly in the arts (fine arts, weaving, textiles, sculpting etc). And here we are today living a wonderful life in the Colorado Rockies in a lovely log home.
In my art and drawings, I have always tried to create an emotional quality that finds itself in the hearts and minds of others. Art to me is basically a form of communication (it has to say something, evoke a response) to get people to actually 'feel' the emotions or visions in other dimensions.
It is almost like peeping into someone's aura, we all have one; it is there and some of us can see and feel these auras. There is even an 'emotional feeling' of energy around a lot physical things especially plants and trees. In other words it is like seeing the 'truth' in things and expressing it in 3D forms.
Roy Adzak said "Good art is not what it looks like, but what it does to us." And he means all art forms, music, literature, sculpture etc.
As I love art in all its forms which includes cartooning, drawing for fun, drawing for educational purposes, teaching art—I thought a website about cartooning and humor for young families will be loads of fun to do. Since I started this site in March 2008, I've had enormous pleasure putting it all together, and I haven't really started yet. I've got lots more to do; put up a few video demonstrations, get lots more funny pictures, write up a few more tutorials, get a weekly ezine going (I hope you will subscribe to it, it's free) and make several DVD's.
I hope you visit my site again soon...I'd love you to peep in to see what's going on!