How To Draw a Dog the Easy Way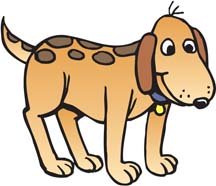 Learn how to draw a dog in six easy steps, anyone can do this no matter what your age. The tutorials are done using basic shapes like the circle, oval, rectangle, square and triangle. These six steps should take you a few minutes to complete. Be quite free with the movement of your hand and wrist to get a 'loose' drawing. Enjoy what you are doing, if it's a chore don't do it.
You need to express your particular style as you do with your handwriting.
Do not get bogged down in detail but keep all your drawings as simple as possible.
Just use basic shapes to draw a dog or any animal as shown here. Go for the cartoon style dog as shown here. There are more complex studies here on how to draw dogs in a realistic style but master these basics and become "at ease and free" with your line drawing first.
Any dog, cat or really any animal can be drawn quite easy if you know that all these "complex" forms can be drawn from ovals, rectangles and triangles.
You do not need to study animal anatomy or skeletal forms unless you want to become a master painter and that can take years to master. These lessons should give you a jump-start for getting a great drawing which you can be proud of. Most of the famous artists have always said repeatedly, you have to be able to draw well, exceptionally well, before you can paint. This is quite true.
Okay, let's start off with How To Draw a Dog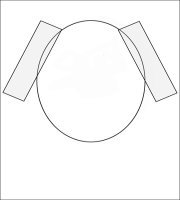 Step One Draw a basic oval or egg shape similar to this one with two rectangular shapes near the top as shown here. These will represent our little friend's ears. Use an #2 pencil or #3—not too hard and not too soft. Keep your pencil sharp all the time. Later I will teach you how to use charcoal and other markers for drawing.
See these basic shapes? Just a circle and two rectangles.
---
Step Two. Now draw in the center of the oval a small black squarish shape which will represent his nose. Then place two fairly large circles to show where the eyes are going to be.
---
Step Three Now run a thick line halfway down to the bottom of the oval from his nose with a V-shape at the end as you can see here. Most animals will have this shape.
---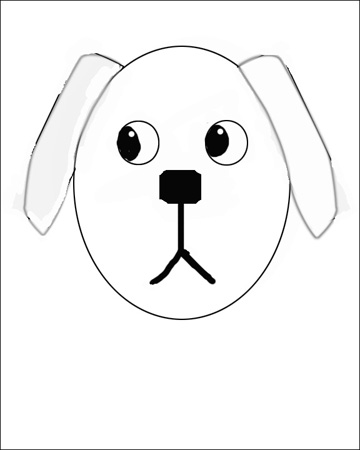 Step Four The next thing to do here is to draw in the ear shapes. Try and follow the drawing here and use your guidelines using a thicker pencil line - or use a softer pencil. Then erase where necessary all the guidelines (you have to use a good eraser so the lines of your drawing will not smudge.)
Don't forget the make nice black eyeballs with a light spot near the top which is really to show reflected light and the eye socket is glossy.
---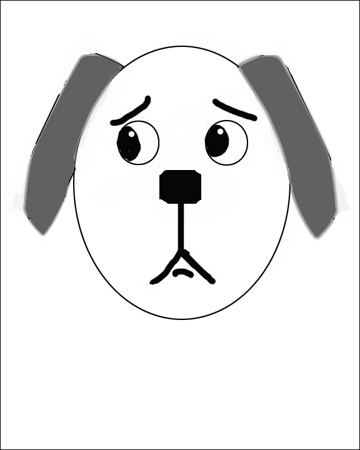 Step Five Shade in his ears to give him a touch of pedigree and place two eyebrows either slanting up or straight. Also draw a smallish thick line to show his bottom lip which is near the upside-down V shape.
---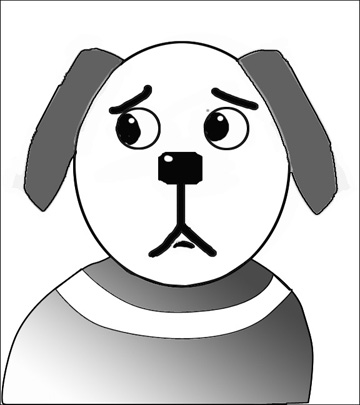 Step Six The final step. Draw his shoulders which is part of a half circle as you can see then put a collar around and do a little "shading" with the side of your pencil. Well done- now show it to your friends!
When you get to this stage try using colorful crayons.
---