How To Draw Dogs in Simple Steps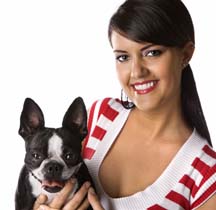 We have put together for you a series on how to draw anything.
And here we have How To Draw Dogs. If you follow along with these easy steps without skipping any of the steps, you should become quite competent to draw most things.
One of the most difficult things to draw is the human form especially the live model. This takes some time because the ability to draw a human figure one has to know the anatomy fairly well—and that takes years of practice and a lot of sweat. Sorry, but these things do not come easy and there is not short cut.
However, all the great artists in history started at the beginning and developed their drawing skills over decades—it certainly wasn't overnight!
Here is the first in this series on drawing with How To Draw a Dog's Head. You start off by drawing a rectangle or a square. To make it really easy, just use square shapes and try and go much larger than these drawings.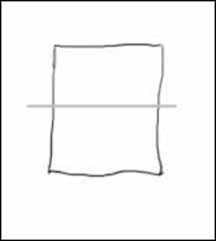 ---
Step One Draw this rectangle or square shape and draw a straight line across the middle. Try and make this line across the middle a little fainter than the rectangle as it is a guideline only.
Make this first one a rough sketch done with a swift movement of the hand. Use a #2 pencil if you have one but really, any marker will do, even a Sharpie.
---
Step Two Halfway between the midway line and the bottom, draw a blackish square for the nose. Do it roughly in freehand. Then place two squares above the line for the eyes as on this example.
---
Step Three Next, draw in two rectangles for the ears as you can see on this drawing. Notice they come down to the halfway mark you have drawn.
---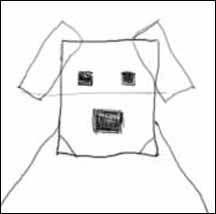 Step Four Now draw two lines coming down the sides at about 45 degrees to indicate his body. And then give him a jawline with two small lines on the lower corners of the rectangle you have drawn.

---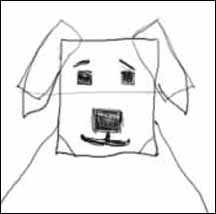 Step Five Now comes the fun part. Draw on each ear a pointed shape as shown - to give him more shapely ears. Place two short lines above his eyes for his eyebrows then draw a short line down from the middle of the nose and a line across for his mouth as shown here. On each side of his mouth you will see in this drawing a small triangle, just put two lines as shown here.
---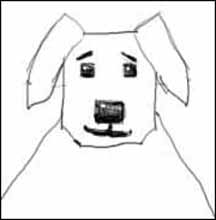 Step Six This is the last step and it is quite easy. Erase all the guidelines and make his nose and eyes really dark. Now place a small white dot in both eyes--and you're done. Why don't you try coloring it in now?
---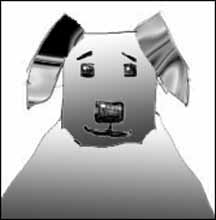 Step Seven This is your choice to either color it in as you wish or do a collage using paper cut-outs to stick over the shapes you have drawn. Use newspaper to start off with as it is easier to handle. Also try colored paper as this will make a big difference in the overall effect--and more creative. I will be showing you how to use collage and montage effects very soon.
---