Cool Funny Stuff - Clean Riotous Laughter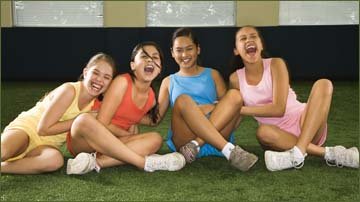 Funny Stuff is a wonderful way to share in high-spirited Family Fun
All the funny stuff starts right here on this page. There is a list of links below you can click on and all of it is suitable for children of all ages.
There are funny animals here, funny dogs and cats, some funny jokes, funny cartoons, and people—they're always a hoot. And of course you will find a lot of funny things like pictures and photos. There are a few pages of funny stories mainly for the youngsters...you'll enjoy them.
Some really funny videos
YouTube has really great videos but we have a few here also some really funny ones and I add to them often so check back or I can let you know if you click on the RSS feed column box on this page. Don't miss some of the hilarious animal antics!
So what do YOU think is really funny?
What makes stuff 'funny' like people or animals? Even the sound of words can be called funny stuff but what is funny to some can be a pain for others. For example, on AFV (America's Funniest Home Videos) you will see lots of people falling down, bumping into things, falling off bikes and hurting themselves, some think this is hilarious, others think it is not funny at all. This depends on your point of view.
Some funny words that catch on
Words can be quite funny like cootchie-coo, cuddle, buffoonery, grunties and winkles, ploogie, plinge, klugy, lurgy, (from Monty Python). Not forgetting Mr Krusty and his kumquats, garbanzos, succotash and guacamole from W.C Fields. All funny words, all crazy stuff.
Gazillions of funny names
And you will find truckloads of funny people's names with some famous cartoon names; Peter Porkchops, SpongeBob, Chris P. Clean, Al Kaholic, Annita Potty, Vishnu VerHeer, Tyron Shulaces, and Eileen Left to name just a few out of millions and millions. Sure, some are a bit silly but they are always fun.
Okay, what about a few funny nicknames?
I am sure you can come up with a never-ending supply. Poofoo Pants, Bouncy Boo, Juju Joe, Gucci Bag yeah, also very silly but have you ever called a friend or family member a funny nickname? I think we all have and still do sometimes!
If you have some funny stuff to share with other families and kids, please go here and tell us the funny stuff you'd like to share. So you'll find a lot of funny stuff if you click on the links below, they are not links to ads, but only other pages on this site. Go for it!
Toddler Bedding with choices of nautical, sports, trucks, and more, you will find the perfect blue bedding set to fit your toddler room's decor.
Have a Blast - All these links below to truckloads of Funny Stuff

Funny Animals at Their Craziest!
Funny Animals can be seen everywhere, your pet is probably quite funny and gets up to some crazy things! Get out your video camera and start shooting, then put it in YouTube. You could even win a prize on America's Funniest.
---

Funny Cartoon Animations
Best place for everything funny in Animation—and there's some really funny stuff on YouTube. Look for the professionally made animations, some are good, others are just humdrum.
---

Funny Babies
They are so natural in their very funny ways and don't give a hoot what anyone thinks about them. Aint it nice to be that way? Wouldn't it be great if all adults became just themselves, like babies and didn't give a hoot what others' thought of them?
---

Funny Cartoon Animals
There are some wonderful funny cartoons you will find here and they are not your daily cartoon strips—this is what you call funny stuff. You will find here some of the funniest cartoon animals and they have been viewed millions of times - so they are good!
---

Funny Cartoon Cats
Cartoon Cat movies are always so funny, especially the Disney cartoons. Some of the home videos on Utube are pretty good and can get you rolling on the floor!
---

More Funny Cats
Yes, there are more funny cat goings on here, in fact there's an abundance of funny cats doing the weirdest things. You wouldn't believe some of the things they do.
---

Famous Funny Quotes
How about a famous quote by Abraham Lincoln: He said,
"Common looking people are the best in the world: that is the reason the Lord makes so many of them."
Abraham was very intelligent and had a sharp mind and wit of his day. He was also a very humble man—he made fun of himself instead of making fun of others.
---

Funny Comic Strips
So let's make fun of everyone in a comic strip (well, they do it in South Park)and "send" everyone up. They also do it in "Family Guy". Now Family Guy is in on the act of ribbing people like Sarah Palin and this laughter has been going on for some time. Some of these are quite a hoot!
---

Funny Dogs
Dogs and pets are always funny and they make great video clips. My dog is a star on YouTube and does not pretend to be a funny dog. She just is! Dogs seem to be the real comedians on funny videos and people can watch the same clip time and again - and it still gets a laugh.
---

Funny Facts
Did you know cats have 32 muscles in each ear? Enough to hear silence iteself. No hearing aids needed here. There are zillions of funny facts from alligator pets in The White House; it is illegal to catch a mouse in Ohio without a hunting licence, and bats always turn left when leaving a cave - have you ever noticed?
---

Funny Kids
All kids are funny in their own unique ways, it is when they get to adulthood the fun stuff kinda disappears and some of them become funny people and some still remain funny kids. As they go into adulthood they become more sullen and morose. I wonder why?
---

Funny Monkey Pictures
Some of these primates are really funny and almost human in their antics. I like the way they hunt for fleas on each other—it's a good job humans don't do that, or do they? They go bananas after a banana, love pawpaws (a South African Fruit) and anything succulent.
---

Funny Monkey
More funny monkey pictures here. Take a break and have a laugh! Check out some of these funny monkey's on YouTube, they get into people's cars, they get into houses and raid the kitchens, well not here, but in South Africa they do—some real funny stuff there.
---

Funny Names
Funny names are everywhere you look, from people's names, street names, county names even car names. Were you ever given a funny name? I have had plenty from my friends over the years like Ivana Tinkle, Anita Potty and Boyd Schidt to name a few. Go to some of the websites links here and you will find zillions.
---

Funny Nick Names
Don't we all have a nickname of one sort or another? Some are funny but not all, some are downright ugly but even the nasty one's can be very funny. I had a funny nickname once in primary "Bozo Brown" and everyone seemd to love it, including me! If you have a funny nickname lets' hear about it but nothing crude on this kid-friendly site.
---

Funny People
People get up to the craziest things which make us laugh or cry and sometimes we pretend we didn't notice! Funny people can be the funniest of all in their most unusual ways. Go to Utube and check out some truly crazy funny people but do not try some of the tricks you see.
---

Funny Poetry
There's a load of funny poetry to be discovered on the internet. It is so easy to put together a poem or two, get yourself a rhyming dictionary and I bet you will have a lot of fun. Send one or two to your dearest heart throb or send a few here, we will publish it for you.
---

Funny Posters
There are zillions of funny posters from your favorite cartoon characters to pictures of your super hero. Get one made of yourself through Zazzle and distort it a little in Photoshop, your friends will love it. Get some funny posters of Ben 10 and even the Transformers, they will look good on your bedroom wall.
---

Funny Puns
Lots of puns all spun for you...see the internet for clever funny puns! Some so funny they will jump the laughter gun! You can become a hero with a boatload of funny puns under your belt. Most funny puns are a rehash of old stuff that has been around for years. It is still good to know a few!
---

Funny Signs
There's no decline in funny signs, they're here to bring sunshine into your life - to wax a smile come rain or shine. You can spot funny signs just about anywhere, just be aware of those signs nearby from church signs, road signs, public signs and even plenty of office signs.
---

Funny Stories
A funny story can be a great bedtime story for kids to hunker down and enjoy Old Glory -is that really a bedtime story? There are funny stories that kids love, they want you to read it to them again and again. Well, it is good for their English and widens their vocabulary.
---

Funny Thoughts
Ever had a funny thought? I get them every day and smile and someone will ask "What's the joke?" And I tell them my funny thoughts and they smile too. Folks will sometimes think you are crazy if you tell them your thoughts, who cares really? But we all have them when we recall funny situations we have been through in the past.
---

More Funny Dogs
We have so many funny dogs and not enough funny groundhogs but we get the ocassional road hog who behaves like a dog! Not only dogs are funny but most domesticated animals are. See more funny dogs above doing their sometimes very strange things.
---

Laughter
Laughter is that great liberator of stress and often an indicator you need more, yes, more laughter. Try just laughing at nothing and soon enough you will discover something to laugh about. Even if you smile, something will pop up for you to smile about.
---