Funny Kids Rule the World and so they should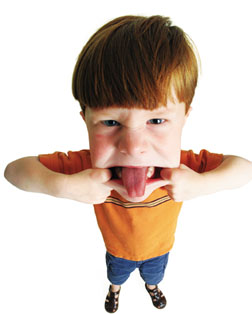 A Great Source for Laughs
Funny kids aren't just the class clown, they're stars in the making and the humorous leaders of tomorrow. Funny kids are always a great source for laughs. Whether it is from the amusing situations they get into in their baby years, giving their parents lots of blackmail pictures for their wedding day, or the hilarious jokes they think up while avoiding bedtime, they are sure to get a smile.

Kids Who Entertain America
Kids really do say the darnest things, just ask Art Linkletter or Bill Cosby—they both had long running series based on this very fact. And what would America's Funniest Home Videos be like if it weren't for the kids who entertain America each week.

That embarrassing Moment Can be Funny
Even a child's uncontrollable giggles can make those in ear shot laugh too. Babies that dance to the music or the funny faces they make when they try garbanzo beans for the first time. And almost everyone has an embarrassing video of them sneezing, pooping or falling asleep in their highchair. And when you get a toddler and animals together, you have sure-fire comedy that will make even the grouchiest person crack a smile.

Kids Words of Wisdom
Even the most pernickety kid will get laughs as they struggle to keep a duck from chasing them at the petting zoo, or chasing the family dog right into the pool. Kids are great for passing on words of wisdom like giving their definition of what they think love is. A group of six year olds were asked to define love and described it as "when you tell a boy you like his shirt and then he wears it every day" or "when my grandma got arthritis and couldn't paint her toe nails anymore, so grandpa did it for her" or the little boy who replied "Love is when mommy gives daddy the biggest piece of chicken"

Do You Know How Your Child's Mind Works?
Or how about the child who was drawing a picture of God and when her teacher said "but no one knows what God looks like." she replied, "they will in a minute!" You can't help but smile at the beauty of how a child's mind works. When Paul was asked what the best part of school was he quickly replied "recess" when asked what he hated he responded "missing recess"...I guess we know where his mind is.

Don't Take Life Seriously
From the funny faces they make to their infectious laughter, kids have the ability to remind us all not to take life so seriously. How many times have you been steaming mad and all it took was a well timed innocent comment or look from a kid in your life to make all the anger melt away and laughter to fill the room.

Is Your Kid the Next Jay Leno?
There are thousands upon thousands of hilarious videos of funny kids. Whether by accident or because they believe they are the next Jay Leno, kids can capture the humor in life that as adults we sometimes forget to stop and appreciate. From physical comedy to the greatest stand up routines a kid's imagination can muster, there are funny kid videos that cover it all and we have put some of the best that we can find together for you to laugh at, share with your friends, and maybe even imitate.



---
Let's Have Your Kids Opinion About Anything
People Just Love To Hear Your Kids Opinions.Why Not Share it?
What Other Visitors Have Said
Click below to see contributions from other visitors to this page...