Kids Recipes For Health and Fun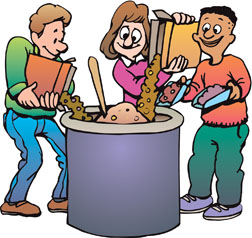 A toddler decides that the world is a really beautiful thing at the age of two; there are new sights, sounds and smells to be explored. By the time they are 4 or 5 they are very interested in what is going on in the kitchen and are always looking to wash dishes or try their hand at cooking.
Chocolate the elixir of Gods! Kids and adult alike just love chocolate. So what's better than letting your kid make a yummy chocolate dessert? They're going to love it making them and will be excited to share their new-found ability and treats with their mom, dad and siblings.
Ingredients

6-8 Brownies (store bought or homemade)
1 cup small pieces of chocolate
Chopped walnuts, as many as you can get.
Two tablespoons maple syrup
1/4 cup chocolate shavings
1/4 cup fresh cream
Pieces of fruit to decorate
Melted butter for greasing the bowls
4-2" ramekins
Crumble all the leftover brownies you have in your fridge. Add the syrup and mix; then divide into four parts.
Grease each ramekin with melted butter, then place one part into each (save a little to make a top for each). Hollow out the center of each creating a nest and refrigerate for about 20 minutes.
Mix the cream and chocolate shavings and fill each of the nests. Cover this with some more brownie mixture, and refrigerate again for 40 minutes.
Eat them cold or pop them into the microwave for a minute and then add some fruit to garnish.
---

This is one recipe that will have them licking their fingers and begging to make more.
If you're looking for really healthy kids recipes and you cannot get them to eat spinach, you could ask them to help you make soup with an oriental touch.
Ingredients

2 Tbs mushrooms.
2 ½ cups chopped baby corn, chopped or cooked corn
4 ½ cups chicken soup
2-4 pieces boiled chicken
1 tablespoon oil/butter
2 cups spinach, cut into small pieces
3 x 4 cup chopped onions, and some Garlic
2 tablespoons flour
1 tablespoon soybean sauce
1 cup milk
Salt and pepper, and any other spice that your child likes (just a pinch)
Help your child to lightly sauté the onions, mushrooms, baby corn, spinach and garlic together in the butter until the onions turn brown.
Now add the chicken soup, chicken pieces, soybean sauce and spices to the vegetables and allow them to cook together for five minutes, stir in the flour mixed with ½ cup of water and allow to thicken. Eat with hot buttered toast.
---
One of the easiest to make kids dinner recipes is a simple stew:
Chop lots of fresh vegetables of your choice including lots of potatoes or rice, and some pieces of meat, chicken, beef or pork together and put them in a cooker with milk.
This easy to make stew is extremely nutritious, and quite tasty. Add salt, pepper and butter according to your taste preferences. They can either drink the soup or eat it with toast, biscuits or cornbread.
Kids love being able to help. Don't squash their natural instinct to do whatever they feel will get them a smile and a hug from their parents. Encourage them to make a meal and don't hassle about the mess, they have to learn some how.
---
Subscribe to Family
Fun Newsletter

For funny stuff check here.
---
A Funny cartoon is a great way to add laughter and bring some fun into your life. Laughter is contagious and so is clean humor found at Family Fun Cartoons right here.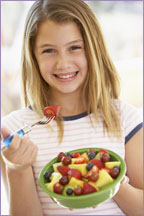 Copyright © 2008-2009 All Rights Reserved Family Fun Cartoons