Funny Animations For Pure Fun Stuff
So what is your fancy? Squarepants?
Funny animations for everyday fun stuff no matter what your humor —whether you get a chuckle from The Simpsons constant trouble making in Springfield USA or Spongebob Squarepants living in a pineapple under the sea, you will find something amusing here.
Does it make you think?
Author William Davis said "The kind of humor I like is the thing that makes me laugh for five seconds and think for ten minutes". Walt Disney was a genius at making great animations that also made you think. Timon and Pumba may have made you laugh uncontrollably the first time you saw them sing "Hakuna matata" but I bet you have said the phrase at least once in your life...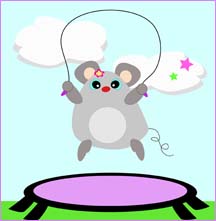 Hey, bust a gut!
"Comedy is simply a funny way of being serious", according to Peter Ustinov. Funny animations just make it easier to laugh at a serious situation. It doesn't matter if you find Goofy slipping on a banana peel absolutely hilarious or you bust a gut laughing every time you listen to your friends from Madagascar exchange witty remarks.
They are based on real life things that happen and give us a way to find the humor in any situation. Funny animations are a big part of most childhoods. Saturday mornings would not be remembered so fondly without the Adventures of Scooby Doo or the dancing moves of Stitch and Lilo.
Many an adult grew up on Frosted Flakes because an animated Tony the Tiger tells us "They're Grrrrrrrrreat!!" And most of them can still sing the theme song to The Jetsons, The Flintstones, and The Bugs Bunny and Tweety hour.
The Smurfs have entertained a few generations now and Walt Disney has delivered humor and happiness to millions with the wide selection of animated movies, television shows, and theme parks. Disney let each of us get lost in an imaginary world of funny talking Pirates and animated dancing Hippos.
We can go on adventures with Peter Pan, Tinkerbell or follow Casper the Friendly Ghost as he tries to make a friend. And thanks to computers and technology there are more amazing cartoon creators and great new funny animations available to make us laugh every day. Laughter is the best medicine and animation is a great way to fill that prescription.
The internet has made it even easier for animators to see their projects reach thousands of people. Talented and dynamic minds are coming up with funny animations everyday that can be accessed by the click of a mouse. We literally have a world of comedy at our fingertips! Family Fun Cartoons is a great place to find the best jokes, comedy, and animated humor on the web.
What would life be like if Pluto were just a thing in the sky rather than the lovable friend of a giant mouse named Mickey?
Animation has become a huge part of everyday life! It brings more laughter than almost any other creation. It breaks barriers of every kind and can appeal to every age.
Family Fun Cartoons has worked diligently to compile some of their favorites, which are sure to be yours too. We searched the web and the animation vaults to sift through all the comedy and find animations to present ones we believe appeal to every sense of humor.
Singing Hippo with Lion and Dog