Funny Cartoon Cats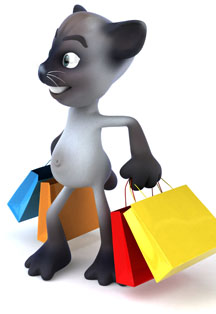 A handy list of funny cats
No funny website would be complete without a list of the most funny cartoon cats throughout history. Kittens and funny cats have been tickling our funny bones for decades, and it's about time that someone gathered all of the most memorable cats into one handy list. Therefore, we present to you a list of the best funny cat cartoons to grace the nation thus far!
Garfield - one of the funniest
Garfield started as just a comic strip, but he was so funny that he got his own movie! Garfield is definitely the funniest as far as fat cats go, because he has a strange obsession with lasagna, and sleeps pretty much all day. Too bad we can't all be like Garfield!
Puss in Boots
This sly nursery rhyme character came to life in the film Shrek 2, where he was a lovable little sword fighting kitty in boots. Puss in Boots is best remembered for his adorable "kitty eyes" that convinced Shrek to let him travel with Shrek and Donkey. With those kitty eyes, he can come with us whenever he wants.
CatDog
Okay, so he's technically only half a cat, but at least his name is first! CatDog was a charming Nickelodeon cartoon about an animal who was—you guessed it—half dog, half cat. CatDog got into some funny situations, but we always wondered how he was born in the first place.
Diego
Diego was the saber tooth cat in the wonderful cartoon films Ice Age and Ice Age 2. He started out as a bad guy, but quickly got in touch with his good guy roots when he met Manny the mammoth and Sid the sloth. By the end of the film, we were totally in love with Diego.
Hello Kitty
Hello Kitty is everywhere, and we're loving her! She's a white Japanese kitten with a head much larger than her body, and tiny button eyes and nose. She's always wearing such a cute pink bow on her head that we can't help thinking she's a funny cartoon cat.
Madcat
Madcat was the pet of the evil Dr. Claw on the cartoon show Inspector Gadget. We never got to see Dr. Claw, we could only see his hand petting Madcat as he did his evil scheming! If we had to guess, we'd say that Madcat is high on the list of crazy cats in history.
Snowball I, II, III, and V
These were the names of the Simpons' family cats on the satirical hit cartoon series. The current Snowball is black and isn't too friendly, especially when their dog, Santa's Little Helper, is around. I guess we'd be kind of unfriendly too, if we had to put up with all of the Simpsons' hilarious antics!
Sylvester - The Silly "Puddy Tat"
Who can forget Sylvester and Tweedy? A cat that didn't have very good hunting skills, but seemed to always have a plan that a bird could see straight through every time. In fact, "Tweedy bird" would get special treatment from their owner and Sylvester would just get scolded. "I tot I saw a puddy tat-I did, I did".
Funny Cartoon Cats Are Everybody's Favorite
Cats have always been depicted for their cunning ways, mysterious personalities and fun, playful schemes. These adorable pets have become the subject of many cartoons that children through the decades have enjoyed daily.
---
Really Funny Cartoon Cat Video
Funny Cartoon Cat Video
For funny stuff check here.
---
Enjoy This Site?
Then why not use the button below, to add us to your favorite bookmarking service?



Work at Home Moms
Do what you love to do with your children.
Here is a free Work at Home Course for Moms!




Copyright © 2008-2010 All Rights Reserved Family Fun Cartoons