Funny Stories With Elements of Fun: Raining Spaghetti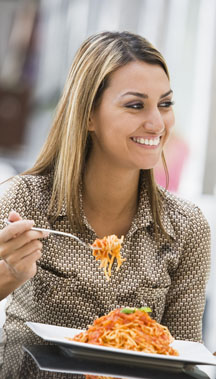 One sunny day, Frankie decided to go to the park with his friend Lulu. Frankie was short and had long yellow hair. Lulu was tall and had short brown hair. They were a perfect match, and were also the best of friends.

As Frankie and Lulu were walking to the park, a big cloud formed in the sky, and then it started to rain right on top of their little heads!

"Oh no!" said Lulu. "We can't play at the park if it's raining outside."

"Are you kidding?" Frankie responded. "When it's raining, it's the BEST time to play outside!"

Lulu looked at Frankie with a funny look on her face.

"It's true!" said Frankie. "Because when it starts to rain, the ground gets filled with spaghetti! Only, we're not supposed to eat the spaghetti, because it's the rain's gift to the ground. Once the ground eats up all the spaghetti, then the rain dries up, and the storms are over. That's when we know that it's okay to come out and play again." By this time, Lulu thought Frankie was just about the craziest person she'd ever met. The two friends decided to wait under a tree until the rain stopped, and then start walking to the park again.

Then, all of a sudden, Lulu started to notice that little...things...were starting to come out of the ground. They were wiggly, white, skinny, and looked sort of like...spaghetti!

"I see them! I see them! You were right Frankie, the rain really DOES give the ground spaghetti to eat!"

Frankie smiled. "I told you! That's why the ground doesn't mind getting all wet when it rains - because the rain gives it some spaghetti to eat, and its belly gets all filled up."

Lulu didn't think that Frankie was crazy anymore. In fact, she thought he was pretty smart for knowing the secret about the rain spaghetti.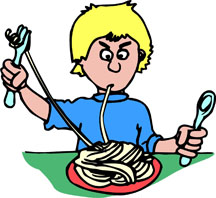 "Can WE eat the spaghetti?" Lulu wondered.

"I don't think so. The ground gets mad if we eat all of its rain spaghetti because it likes spaghetti just as much as we do."

"Oh," said Lulu with disappointment, as she looked to the ground. "Well, how about just ONE piece of spaghetti? The ground wouldn't mind that too much, would it?"

"I don?t know. I guess you can if you REALLY want. But I wouldn't do that if I were you," said Frankie cautiously. "It just doesn't sound like a good idea."

Lulu picked up one of the rain spaghetti's and took a bite. It did NOT taste like spaghetti.