A wonderful movie for kids - Go and see it!
by Ebenezer
(London)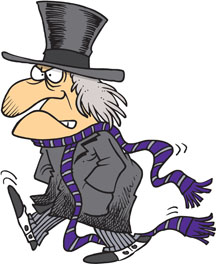 Scrooge
The Charles Dickens classic "A Christmas Carol" has now been made into a film. The protagonist, a miserly businessman, Ebenezer Scrooge is taken out on a nocturnal visit to the past and the future by the Ghost of "Christmas Past", and the ghost of "Yet to come" respectively, to show the mistakes that he had made in life.

The Ghost of the present shows him the love and respect people have for him even though he treats them badly. At the end of the visit Scrooge learns to celebrate Christmas and is a totally changed man.

Well portrayed through the animated film, the characters come to life with the voices of some of Hollywood's geniuses like Jim Carrey who lends his voice for Scrooge. This 3-d film is directed by the well known director Robert Zemeckis, who has given us good films like The Polar Express and Back to the Future.

The musical score of the film is aptly composed to suit the plot and the sentiments expressed. The animation grips the spectator till the end with the colorful graphics too. A real family entertainer and this classic comedy will definitely enthrall the audience between the ages of four and eleven this winter.

Click here to read or post comments
Join in and write your own page! It's easy to do. How? Simply click here to return to Share Your Moments of Family Fun.
---