Alphabet Coloring Pages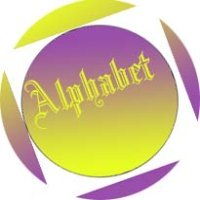 We all have to know the alphabet inside out and upside down. These alphabet coloring pages will help you do just that. Once we know the alphabet well, we should then learn it backwards—Z-Y-X.....to A. Alphabet coloring pages are the basics of learning good English even if you are only three years of age!
Lots of children have a good grasp of the alphabet at the age of three, double your age and you should know it like your own name —you don't have to think of your name, you just "know" it. That is how well you should know the alphabet.
You can certainly learn the alphabet by chanting or singing along...A-B-C-D-E-F-G, H-I-J-K...but that is learning it by rote (or mechanical). In the old Chinese schools, the kids were taught most things by chanting them in unison. This is not an effective way of getting a full grasp of the alphabet and anything you learn this way is robotic with no understanding. By "rote" basically means from and for memory, without thought of the meaning.
How do you remember your name? You don't, you just "know" it. That is how you should know the alphabet! If I say to you, "What is the letter following S in the alphabet?" You should know this instantly without thinking. Now that really is knowing, not "thinking about it" and once you know it like your own name, you never forget it.
It is quite interesting where alphabets came from and where they developed. The Chinese do not have an alphabet as such (or the Japanese) but there are 37 phonetic sounds in their language and only 24 letters in the Hawaiian language. If you want to know lots about alphabets go to Wikipedia here and you will discover how they were created. Most languages and their alphabets actually emanated from Latium (Latin) and ancient Rome.
Do get to grips with these alphabet coloring pages where you can have fun and learn their shapes and curves. The lower case letters have more curves than the upper case ? or capital letters which should always be used as the first letter when you write your name.
To start off click on the thumbnail A which will take you to a large image in a separate window where you can print it to color in. To print, click P on your keyboard and it should take you to your printer. Have loads of fun with your crayons or paints.
---
Alphabet Coloring Pages
---
Alphabet Coloring

Alphabet Coloring
Funny cartoons are a great way to laugh and bring more happiness into your life. Laughter is contagious and so is clean humor found at



Family Fun Cartoons.
Enjoy This Site?
Then why not use the button below, to add us to your favorite bookmarking service?



Copyright © 2008-2010 All Rights Reserved Family Fun Cartoons