Are Animal Coloring Pages Easy To Color In?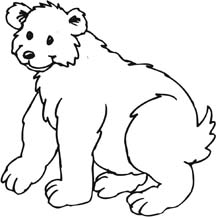 Try it, let's See How Well You Can Do!

Color in your favorite pet
There must be hundreds of animals you can think of to color in—from your favorite pet to those ugly dinosaur creatures, well, some of them are not so ugly, just interesting.

Your favorite pet, your cute little puppy or an unusual alien by the name of "Lochness Monster" can be an exciting picture to color in.

Animal coloring pages seem to be one of the favorites followed by cats which is probably due to our close connection with these lovable creatures. As a suggestion, try and use really bright colors as bright as you can make them - and remember, the lines are only there as a rough guide. It will make your coloring-in a decorative piece of art or, if you prefer, try coloring-in with a more natural look but this is more difficult to do.

No peer pressure please
Young kids have this wonderful flair for animal coloring pages using the brightest colors they can find; these usually turn out to be very creative. But ah, sadly, they are told by their parents, peers or teachers that "Dogs should be drawn or painted this way" or something more subtle than that and of course the child 'adjusts' to what is considered 'right.' Peer pressure can be quite awful and oftentimes wrong. I guess you've got to be yourself and just splurge!

Ever seen a dog or cat with a bright red nose, a yellow face, a green body and a purple stripe tail? Now that's fun, can be extremely funny, and creative.

Off-the-wall Colors and Form
Way back in the beginning of the 20th century (around 1907) a group of artists in France started a trend called "Fauvism" who used garish colors and wild brushstrokes with no regard for perspective or form. If you Google 'fauvism' you will see some of these really wild paintings...they are 'off the wall' but inspiring if you want to be creative.

Add another dimension to your creativity
Animal coloring pages, like any coloring page, are usually outline drawings. However, you will see in some of these I've added a shade or two of gray to show more of the form. This gives another dimension to the animal and to your creativity. Scroll down and find an animal you like then click on it which will open the image in a new window. To send it to your printer press Ctrl+P - the image will print out about 6 inches x 8 inches.

Please note that these thumbnail images are a little 'squished' up but the larger images you click on will be proportionately okay. So go for it!
To Print, click on image then press Ctrl+P
---