Car Coloring Pages For Kids Who Love Cars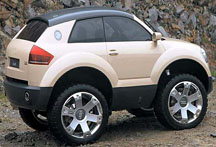 Car Coloring Pages just for those car folk who LOVE cars and love to color-in. You can call them automobiles, limos or just a caddy. You might be interested in vintage cars—well, you will find some of these quaint old cars here like the Model T Ford.
These car coloring pages can come alive under your paintbrush or crayons. You may be keen on dragsters, short squat-shaped cars or just those beautiful Cruisers made by Chevvy. Whatever the type of car you like, just print up a few of these coloring-in pages you will find below and crayon them in with your favorite colors.
Perhaps you are a NASCAR fan and want to get into top gear with your colors or a Grand Prix Formula One enthusiast who likes to see lots of movement—so use watercolor to get the feeling of speed!
I had a request to show rear end bumpers to show more of a funny bumper-sticker. Some of these stickers can be funny like "shut up and drive" and "the closer you get, the slower I drive." There must be millions of these, some of them really funny and others quite crude. You can tell a lot about a person by their stickers especially those drivers who cover every square inch with stickers!
Did you see that wonderful animated movie 'Cars' with those amazing cars called The King, Chick Hicks and Lightening McQueen? You can get some great coloring ideas from these cars but use your imagination and your favorite colors.
To print any of these car images just click on them which will open a new window with a larger image. Then press Ctrl+P or Command+P to send it to your printer.
Here Are Your Car Coloring Pages
---