Cool Cartoon Babies Full of Sunny Fun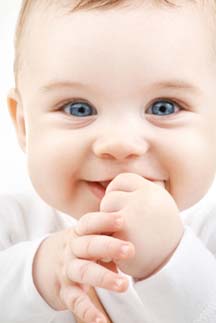 Of course, cartoon babies we've seen over the years can be funny, ugly, beautiful, fat or thin, melancholy or hilarious or downright bizarre. Someone said once you can find a little beauty in ugliness and ugliness in beauty. Is there any truth in that?
Do you remember Baby Huey from way back before most of us were born? If you don't recall, Baby Huey was a giant duckling who used to sing in his quacky style "Quack a Doodle Doo" and his friend, Dimwit, used to chuckle over his big friends' antics. Huey thought of his peers as humanoid in his naive way and tried to behave like them causing many problems which alway eventually brought Huey to tears!
More recently Mega Babies came into the limelight. This is a story about a baby trio named Meg, Derrick and Buck who dearly loved their babysitter Nurse Lazio. These babies were taken to an ophanage soon after they were born. Months later they were hit by lightening—some say it was from outer space—which changed their character entirely. From that moment these babies were blessed with enormous strength where they could create sooper boogers, powerful poops, mega farts exceeding mach 10 (that's pretty fast, almost the speed of light) which also polluted Planet Earth. Nurse Lazio was also endowed with a super I.Q that eclipsed MENSA standards—the brains behind the babies.
Yes, we know this can be classified as toilet humor but kids love this overly vulgar stuff which is why it was so popular in the 1990's and has not diminished since. And you know there is a completely new kids language from BFF, NooB (newbie) and zillions more, you'll need a teenage dictionary if you want to really communicate! I personally can't get my head around this new language.
Now Baby Gonzo was a weird-weirdo who spoke his mind often though it always sounded quite nuts which upset a few buddies. But the aim was to be the center of attraction. Gonzo knew how to do that alright. He dreamed a lot about Baby Piggy and was overly suspicious of her as she had a bad temper and displayed similar characteristics of trying to be the center of attraction when Gonzo was nearby.
A family-friendly educational cartoon was the famous Dino Babies comprising six dinosaurs who loved adventures especially those wrapped around "The Abominal Snowbaby" and "Dak and The Beanstalk." These babies shared so much about dinosaurs and life as it appeared around them—to try to help educate a few kids on morals and other life lessons.
---
Cartoon Babies For Baby Enjoyment
Cartoon Babies For The Very Young
Crocs Deal of the Day - Get Daily Deals Throughout December
Cartoon Babies are Frown Busters
Do you see babies in comic books or TV shows?
How do you feel seeing them flash their funny poses? I bet you get delighted each time you set your eyes on them. Adult and kids alike enjoy looking at cartoon baby pictures since it gives them pleasure to see babies illustrated in fascinating ways. Whether it's a dancing baby, a baby playing in his crib or drinking a large bottle of milk, cartoon baby is absolutely adorable. Yes, except for cry babies. These little munchkins can definitely lighten up one's mood the moment they flaunt those sweet smiles.
There is something very appealing about seeing cartoon baby pictures
Most of them are often drawn with a blown-up head to put on humor to the picture. Exaggeration is also shown on the size of the eyes and mouth on cartoon baby faces that makes them irresistibly charming. Their sparkling eyes catch your attention like magnets that glue your eyes to them with awe. Tell me, who wouldn't like that little button nose?
One extra thing you don't want to miss about cartoon baby pictures
is that bulky diaper with large pins. It is amusing to see baby pictures portrayed in different backgrounds you could ever imagine. It can be a baby crawling on the kitchen floor, bathing in the bath tub with a rubber ducky, playing in the sandbox, or hanging out with his pet. Don't you just love them and wish they are alive? Each picture has a story to tell. It can be something for your personal enjoyment or for you to share with your friends. A glimpse of these cuties will certainly make you feel better after a long and tiring day.
A wide variety of cartoon baby pictures
can be located in different resources which you can find almost anywhere at your convenience; you don't need to go out of the house to find one. A lot of items in the house or in your school have printed cartoon baby pictures such as in books, clothes, DVDs, and posters.
The internet provides numerous sites where you may download and print pictures
to color or use as desktop decoration. You can spend hours of fun coloring cartoon baby pictures. Let your imagination and creativity flow. It is important, however, for parents to monitor the content of cartoons to be viewed by their children for a safe and enjoyable viewing experience. While the availability of resources is plentiful, it is also important to check if it's for free or for a fee. Either way a cartoon baby will surely make you happy and stress free.
Next time you feel low and you want to cheer yourself up and be happy
remember by simply looking at cartoon baby pictures can bust that frown on your face away. Yes, even for the grouchiest of people. The beauty and smile of a baby is always something special.
---
A Kid-Friendly Family Site

Free Fun Newsletter
Enjoy This Site?
Then why not use the button below, to add us to your favorite bookmarking service?



Copyright © 2008-2010 All Rights Reserved Family Fun Cartoons