Christmas Coloring Pages For Happy Holidays
Christmas Coloring Pages are helpful for children to become familiar with Christmas and all the fun things that come with it. The very young kids will discover Christmas stockings, the Nativity, Christmas trees with their color and decorations, the fairy on top and the glowing lights.
This then has several purposes for the child; getting the feel for color, the forms and images you will see on these pages, developing motor skills which is important for youngsters, getting an eye and hand co-ordination for creativity and self expression and gaining confidence in their ability to see things in their own personal way.
Parents often make the mistake in telling the child what colors to use, how they should be applied and "Go inside the lines" as I've heard many times. This is of course restrictive and puts restraints on a childs creativity.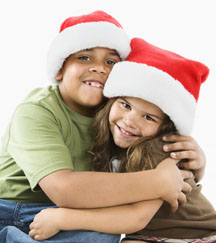 All children love to be validated for their creativity no matter how much of a mess it can sometimes appear to be. Take time out will you Mom to have a chat with your child about their artwork—and any other creative endeavor they are interested in.
The idea is not to promote "outstanding" art with their Christmas coloring in or for them to become the next David Hockney, but to "feel" all the Christmas objects around them to be more in contact with their environment. It is a spiritual thing not a physical one and increases their space which will make them far more at ease not only with their surroundings but also with people.
So below are some of the things you or your child will find useful to start off with. There is of course a few coloring images of Santa Claus, a few elfs - these are the mischievous ones, sleigh bells, Christmas stockings that kids love as they are full of surprises, wrapped gifts to color in. There may be a Christmas turkey thrown in there somewhere!
My suggestion is to color in many of these pictures and use bright colors and, if you can, use colors that compliment one another (opposites like red and green). Red makes the green look greener and the green makes the red look redder. This is really an artists trick to make colors appear more intense. So your Christmas trees can look really green and the red ribbon quite red.
To print, click on an image you like and a larger picture will open in a new window. Then press Ctrl+P to send it to your printer. Have fun.




---
Christmas Coloring Pages For Happy Holidays
---
For funny stuff check here.
Copyright © 2008-2010 All Rights Reserved Family Fun Cartoons