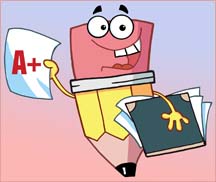 Hey, kids! Are you creative? Yeah, ALL kids are creative! They say the most creative minds are also the ones that find different ways to succeed in life. If you are creative, you can show your true creative colors by coloring pictures with the free online cartoons that are available. Did you know that you can get all kinds of free pictures of just about anything you want to color in, without having to beg your parents for a coloring book? Mom or Dad can help bring out a child's creativity, when they take advantage of the free online pictures that are available for coloring. Whatever a child's favorite subject is, there are plenty of coloring pictures that can be found online.
Children that are encouraged to color pictures when they are younger learn an appreciation for art, organization and color or design. The sky doesn't always have to be blue or the sun doesn't have to always be yellow. Whatever colors you want to use can create an entirely different piece of art. With your computer and printer, you can take advantage of the free coloring pictures that are available online and they can be of the subject matter you like the most. The choices of coloring books is limited, even in the places that cater to children, like the big name toy stores or children's section of book stores. The Internet has revolutionized the way that pictures are offered for coloring.
If you are a child reading this, you don't have to ask your parents to ever buy you another coloring book because you can color in as many different pictures of your favorite things, as you want to with the free online pictures. Whether you like coloring frogs, princesses, flowers, dragons or dinosaurs, there are plenty of choices for you to choose from and if you make a mistake, you can print out another one and do it over. You don't always have to stay in the lines or color things the same color they are in real life. That's the great part about being able to show your creativity through different colors or even altering the lines the way you want them to be. This just shows your creativity is more advanced!
Parents need to allow children the freedom to color items the way they want to. The sun isn't always yellow and the sky isn't always blue. Children will get bored with coloring, if parents are dictating how their finished picture should look and they don't get to use their own creativity this way. The important thing about coloring is that it can be a stress-reliever for a child and it can be a family activity that parents participate in. While you parents may want to teach a child the "real" colors of things, a child?s creativity levels can be discovered when they are allowed to color in their picture, however they want.
So kids, it's time to get coloring. Let your parents and teachers see how creative you can be. If you are searching for pictures to color, there are many choices to think about, but they are free and you can print them out and do them in as many different colors as you want to!
---
Coloring Pictures—Can Get Your Creative Juices Flowing Wild!
Full List of Coloring Pictures and Coloring Pages Here
A Kid-Freindly Family Site

Family Fun Coloring
Enjoy This Site?
Then why not use the button below, to add us to your favorite bookmarking service?



Copyright © 2008-2010 All Rights Reserved Family Fun Cartoons