CONFESSIONS OF A TEN-AGER: It will be my birthday!
by Max Hartman
(San Diego)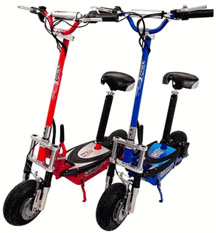 My Birthday Scooter
Tomorrow will be Sunday. Sundays don't usually excite me, but tomorrow? It's gonna be different. I'm Philip by the way. And I am turning 10. Mom promised I could pick any gift at the store nearby. And so I will, I really will. Just a secret though: I've been to the store three times in two days! I was looking for THE GIFT that I would want for my special day.

There's this man wearing yellow and blue uniform in the store, he has been scrutinizing my every move. He's probably thinking I'd shop-lift, whatever. He'll see when me and my Mom walk in tomorrow to buy that awesome razor scooter. He'll probably be nicer to me then! I can't wait!

Perhaps one last trip to the store before heading home? Yes, I'll give myself that since I'll be a ten-ager after today. Here we go again, the busy street that I fear to cross. I don't know why cars don't stop at the white lines drawn in the street, "PED XING", is that it?

Mom says it's the only place safe to cross the street. But not all cars stop! So, I have to wait till a lot of people cross the street. It has been my habit to tap my right foot, just to entertain myself when I am bored. Yes, like right now bored. Finally, here's someone to cross the street with. Wrinkled lady, smiling, alert! Is she smiling at me? Do I know her? I remember. She's the lady of the town famous for her cats. Gosh, she's older when you get a closer look. I'm not starring though. I don't understand why grown-ups are afraid to grow this old. When you're old you get to rest, chill. I mean Mom and Dad are always working. They barely see my baseball game. Always busy with work. I guess when they're old, they've already saved up and don't need to work. Nice.

Oops, I think I did stare long enough, the old lady, she frowned. I didn't mean to. Smiling to myself (STM), on to the opposite side of the street, forward to the toy haven. BFN (bye for now.)

It's a walk forever to the toy store. My legs are all tired! Maybe it's because of practice. Baseball is always fun. It would really be cool if we get into the finals for the community league. Dad's going to be psyched to see me pitch the win! We've always shared the knack for baseball.

Go Yankees! "Ouch !" what was that about? A man just shoved me aside. In a hurry? I wonder why. OIC, police. He's being chased. I hope he gets caught and that's for pushing me almost to the gutter! I wonder what's it for this time. Bad things kind of happen more these days here. Like last week, the Donald's got their house robbed. Shawn lost his PS2. Honestly, I don't understand it. I mean my parents work to buy the things that we have. Let's skip the part that they even miss practice sometimes just so to work. How can others just steal? Mom always reminds me to be happy with what I have. Maybe thieves didn't learn that lesson when they were my age!

I can see the toy store from here. "Philip!" Now, who could that be? Ah, it's Mikey the guitar boy.
"Hey, where you headed to?" "Just walking home, you?"

"Guitar strings got busted so Dad's buying me new ones. Oh, he's here. I guess we're heading off. See you at school. "Right, See you."

Mikey's really lucky his Dad can run these errands with him. Affected am I? That's being happy with what I have. Another confession: I haven't internalized being happy with what I have either! I still envy other kids when I see them spend time with their Dads. I miss Dad. He's been working for the hotel too many shifts. I barely see him (sulks). But, he's made a promise he'll be home tomorrow. Yup, that means no work for Dad tomorrow! I can't wait! What a birthday that will be!

I can't wipe the smile on my face just thinking that Dad will be all mine tomorrow. I know I look crazy because I can't stop smiling. Do you know I'm finally here! I can feel my heart race as I walked across the aisles excited to see that last piece of razor scooter. I have always wanted one, but they're too afraid I'd split into pieces—break or something. I'm actually tough, now that's not a secret!

My parents should have allowed me to ride one last year. It's not like I'll speed off and fall over a cliff or something. That razor scooter over there with blue handles and blue wheels, tomorrow you're mine! I bet I can go as fast as Dunie, my Labrador.

Now, here I am—wait; something is awfully wrong here. I know these aisles (I've been here more than once and I definitely know!) I'm sure after that scooter. Bikes, scooter...but where is it? It's the last one. It isn't gone and it can't be gone!

Anybody please explain this to me? "Mister, (as much as I don't like talking to you because you've stared at me every time I'm here, I'm left without any choice), do you know where the razor scooter went? Did you move it or something?"

"Nope, some lady bought it yesterday."

What? Suddenly I feel dizzy, dizzy like when I was seven, we went to visit my grandparents and rode a boat. I could feel I needed some support, my knees wouldn't straighten. It was like blood drained my head! I didn't know how I managed to say, "Mister are you sure? Did you see the lady pay for it, maybe…"

"Look kid, I'm telling you, a lady bought it yesterday. I wouldn't forget because she seemed very happy about buying it."

Now, this is a birthday nightmare, okay it's more of a pre-birthday nightmare! This is embarrassing, I'm feeling like three—I want to cry. "Okay, got it. Thanks mister."

Thanks mister? Why on earth did I even say that. Thank you for nothing. Thank him for selling the scooter. He knew I was going to buy it! Thank you? For what?


---