Cute Funny Quotes of The Week
Cute Funny Quotes
I loved watching television with my Grandfather. He liked all the old movies, like the Marx Brothers, the Three Stooges, and even W.C. Fields. He used to repeat what these funny people said during what he thought was the proper time! Once, when I messed up mowing a pasture with the tractor - I had the wrong field - he quoted W.C. Fields, an actor from the early 1900s:
"I like children...fried"
I thought he was joking, but his serious face told me otherwise. W.C. Fields had some of the best cute funny quotes around, but there are many famous people who also are known for their hilarious quotes.
For example, many actors and actresses have gotten into the "act" of cute funny quotes. Some of these short quotes were taken during television and radio interviews. Whether the actor or actress took time to rehearse them is unknown, and the phrases went into the books anyway. Martin Mull, a comedy actor and writer from the 1970s until now, once said, "Having a family is like having a bowling alley installed in your head." I guess he's trying to tell us all something. He wouldn't be implying that children are noisy, would he? Hmm, we'll have to think about that one for a minute.
One American author and playwright who is famous for her book, "Please Don't Eat the Daisies!" which became a play and a movie once said, "The real menace with dealing with a five-year-old is that in no time at all you begin to sound like a five-year-old." What does that mean? Is she saying that you start behaving like a kid when you deal with a kid? What's so bad about that?
Babies are always more trouble than you thought - and more wonderful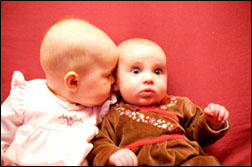 I do know that when I babysat my 6-month-old nephew I talked baby talk to him. Then my sister walked in on me. What she saw was a grown man making weird faces and drooling. Maybe some of my nephew rubbed off on me. Babies are great, aren't they? Being a big sister or big brother can be difficult at times. A group of schoolchildren from Kindergarten to 4th grade were asked about babies. Here is one of their short, cute funny quotes:
Matthew, who is 11 years old, when asked about helping his mother with his baby brother: "My little brother's dirty diapers are worse than liver." I really don't think we can disagree with that one.
Little brothers and sisters can be hard on you when you have to look after them, can't they? I mean, when I was 15 I had things to do, places to go, people to see! But, she was 3, and there was no choice in the matter. One thing I did find out, never give a 3 year old a ripe tomato to hold for you.
Parents can be a little gentler I think. Joe Namath, a famous American football player, once said: "Until I was thirteen I thought my name was 'shut up'." Either he talked too much or his parents didn't want to hear him speak!
Tune in here for more cute funny quotes!
---
Find those Cute Funny Quotes and Puns Here
There are many short funny quotes from adults and children alike. There are books full of them. There's the Internet, also. Reading them can be so much fun, and a glimpse into people's minds. Finding them is half the fun!