A Dog Cartoon Can Nuzzle at Your Mood
No matter how silly or repetitious a dog cartoon may be, both kids and adults can't help but find them adorable. Sloppy dogs, smart dogs, dogs that have super powers, no matter what size, shape or form, somehow dogs in cartoons always seem so real and recognizable, and all so easily they become part of your family. How does this happen?
Just like in real life, dogs in any dog cartoon want to be taken into your heart and home. No matter where you find them—they instantly love you, choose you, you are the center of their world and their life, they will chase you and beg from you and lay at your feet forever just with a look from you—or a smile their way.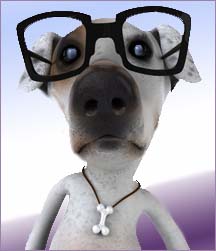 You know how it happens. You are taking a nonchalant walk, wanting to think over stuff and have a moment's peace with your music. All of a sudden there's a rush at your legs, and you're even knocked over in the frenzy, by some slobbering neighborhood mutt who has decided he's found the perfect new family. And you just can't help but admire that ultimate devotion. In a wonderful book called Always, for ages 3-7, Pascal Lemaitre has cartooned a tiny but powerfully protective dog to his little mistress. The story is written expressively by Alison McGhee.
A Dogs Life
Families who have dogs know the saying it's "a dog's life" is absolutely true. Check out any dog cartoons, and anybody can see why this is. People may wind up in the "doghouse", but for cartoon canines it's another matter altogether. Allergic sneezes, biting, furniture destroying, disgusting dog breath, inopportune flatulence - in the cartoons, as in life, dogs can get away with anything! —And that's part of what makes them most appealing. Our inner imps live vicariously though them. How many times have you wished a really big "you know what" to happen on that annoying neighbors lawn?
Big or Small, Dogs Have It All
The dogs of our best known and loved comics, may be gigantic like Clifford and Marmaduke but want to be carried like a little kid and for sure are as gentle and babyish as they are wise and mature, and just the kind of good influence you want for your kids. Martha also speaks words of wisdom, eating something nutritious—even if it is only alphabet soup for her brainpower. But on occasion she displays some adolescent problematic controversy—like not wanting to wash and get clean, but always accepts her lessons with good humor, as does her forgiving family. Snoopy is admirably independent.
Like a wonder pet, a super hero, he is everywhere and does everything. He umpires one minute, takes the bird for a ride the next, brings Charlie Brown a covered breakfast tray laden with bowls, (and then nonchalantly uncovers his own nicely decked out breakfast bowls!) Later, Snoopy relaxes comfortably on his roof. And we all just want to feel just like Snoopy at that moment—the chores done, the good deeds accomplished, the full life experiences of being a part of it all-the good bad and ugly. And then Snoopy just rises above it all on his doghouse roof, at peace with the world, bodily needs taken care of. For Snoopy, life is a breeze.
Fido The Freeloader
Dog cartoons are appealing because they are not that far from reality. Just about anything you see in a dog cartoon can, and probably has really happened. Any day or encounter with a pooch can turn into your own cartoon experience! This worthy of cartoon incident just happened to Harry, the dad. A cute mutt one morning was scratching and racing around the front lawns, scratching at the door, and just about jumped into Harry's arms as he took in his morning air.
The tagless dog, a stranger, naturally was hungry and thirsty and greedily but delightedly lapped up some "guest" refreshments. The doggie played around all day and Harry thought perhaps he'd return to his "real" home later, and to be sure, in the evening, the dog had disappeared. But, lo and behold the next morning, and for a whole week, this scenario repeated itself. Finally Harry planned to watch the whole evening to see about the dog. Just after dusk, a pickup truck parked at the end of the street, a man whistled and called out the special name?and the dog jumped into the truck. It seemed that "Fido's" owner had found a cheap and comfortable "doggie day-care" situation at Harry's house—but for the last time.
Dog Cartoon—They're Just Like Real Dogs
Our Favorite Dog Cartoons
Cartoons are a part of every kid's life. We all love cartoons, especially dog cartoons! Trust me kids, ask your mom and dad who their favorite cartoons were when they were your age and a doggy will be included.
Dogs are not only man's best friend; they are great sidekicks in cartoons too! Okay, maybe not ALL of them are good sidekicks, some are just funny, some are naughty and others just bullies! Let's check out some of the greatest dog cartoons of the past and the present.
Ren and Stimpy from the Ren and Stipmy show ? These two dogs from cartoon network are the K9 version of Dumb and Dumber, but funnier! Now this is a great show where you can learn about hygiene. Yes, hygiene! But not what to do, more like what not to do!

Blue from Blue's Clues ? He is the cutest pup on TV, I must say! And Even if he's more of a lil' kids dog, we still love him and want to get our hands on his Handy Dandy... Notebook!

Santa's Little Helper from The Simpsons ? Now this is a dog that many of you boys must want as a real pet! But he's a dog animation, so it's up to you to get a real dog and train him to be as great as Santa's little Helper (IF mom and dad say you can. Say pretty pretty please with sugar on top!)

Odie From Garfield ? For one thing, he sure is quiet! But even if he never says anything, he still kinda says a lot. Know what I mean?

Lady and Tramp from Lady and the Tramp ? This is when the girls go AAAWWWWW! Sweet dogs in love makes girls blush just as much as Cinderella and the Prince.

Pluto, Goofy and Max Goof from Disney ? The funny buddies of Mickey Mouse. Sometimes Geniuses, other times, not so much, but always fun to watch!

Scooby and Scrappy Doo from Scooby Doo Adventures ? The Doo's are classic dog cartoons that make we wanna go "Rut Ro!"

101 Dalmatians ? There are too many names to put down, but the characters you can't forget are daddy Pongo, mommy Perdita, and the last pup they called Lucky. If he was in a pet store you'd hear me saying "Can I take him home mommy! Pleaseeeeeeeeee!"

Slinky Dog from Toy Story ? Slinky, for me, is the best dog sidekick you could have! He has the coolest stretching powers; he's funny, and best of all you don't need to clean up after him! So easy to take care of (except when he gets tangled up).
There are other dog cartoons like Astro, Dollar, Dog (the half of Catdog), Courage and many many more, and aside from being fun to watch they can all help you with something kids love to do, and that's drawing. Dog cartoon drawing is a great way to practice your drawing skills. Start with the easier ones to draw like Blue, Odie or Dog. After that try the ones that are more difficult until you can try to draw your own!
Dog Cartoon

Dog Cartoon
Funny cartoons are a great way to laugh and bring more happiness into your life. Laughter is contagious and so is clean humor found at



Family Fun Cartoons.
Enjoy This Site?
Then why not use the button below, to add us to your favorite bookmarking service?



Copyright © 2008-2010 All Rights Reserved Family Fun Cartoons