Dolphin Coloring Pages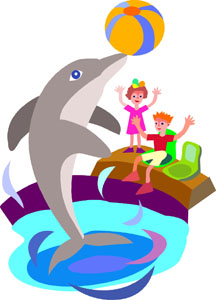 Dolphin Coloring Pages are for marine biologists and children who love these wonderful mammals. These dolphin coloring pages are primary for kids who love to color in just about anything but also have a passion for marine life. Marine biologists can take a coffee break.
Zillions of colors
As you may have discovered, dolphins can be colored in with any color, even pink. There are a few dolphins whose natual color is pink. With all coloring pages, from coloring-in polar bears, to pine beetles, you can color in with any hue you like. Pink beetles, green beetles—and you know what? In the color spectrum there are over 16 million colors to choose from. A big selectiom, so no excuses please.
What did you say? A Whale?
Some useful knowledge about dolphins is that they have "whale" in part of their names; it could be 'baluga whale' or 'bottlenose whale' but I love the name "Flipper." I hear this name come up a lot in politics "A Flipper whose Flopping" (this last comment is really a joke and, as you know, dolphins have a higher IQ than politicians. This last bit is not a joke.
Some of these wonderful creatures have "coned teeth", no dorsal fin, have a blow hole in the top, only peek out of one eye at night as half their brain shuts down so they do not drown. Yes, they breathe like humans in a way, and they can drown.
What do they eat for breakfast? Fish and squid and a few crustaceans, they also have this for lunch and supper. They never complain about their diet. They do not chew their food, just swallow it whole.
The Maui dolphin is one of the smallest and they do not grow much larger than eight feet. What spells danger to these creatures? Man. Their biggest predators. They get caught in fishing nets and pollution—mainly oil tossed out by tankers.
They communicate directly to their close relatives and family by whistling or making high pitched sounds. They interact with humans and have saved many lives when humans have been in danger of drowning when dolphins have guided them to shore.
So out with the crayons and paints and splurge with bright colors to say how much you like these wonderful marine creatures. To print, click on an image which will open a larger image which you can then print. Just click Ctrl+P and it will go directly to your printer. Have fun and try out the other coloring pages here.
Dolphin Coloring Pages