Learn To Draw Animals The Easy Way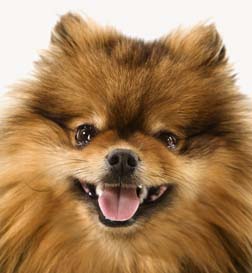 The "How" of How to Draw Animals can be accomplished quite easy if you do not ignore the basic rules and principles of good drawing.
Animals all have basic shapes in common and it is wise to have a full understanding of these basics if you want to become proficient or even a professional artist. As this is a "family fun" cartoon site we'll keep it light and not get too heavy with terminology—or with our old art teacher's motto "It should be done this way" or something similar.
Today there is a renewed interest in animals and "How to draw animals." To be good at drawing animals you have to be really interested in drawing, you MUST have a love of drawing even if it is only to create cartoon animals.
Your first thoughts should be "How can I draw the basics of this animal? And "What are these mammals' basic shapes?" All animals do share basic shapes which are very easy to draw.
These will give you lots of fun as you become really good at "seeing" these animals take shape...and come to life!
And these first steps show how to simplify any animal whether that be two legged creature or four.
Start With These 8 Easy Steps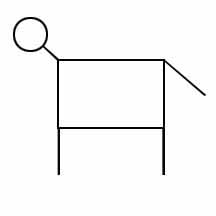 In step one on "How to draw animals" we've drawn a few simple lines suggesting an animal shape—it could be any animal. You might even say "Well, my child could have drawn that" and you'd be correct. There are two legs, a rectangle for the body shape, a line for the neck, and a round shape for the head. Oh, and a straight line for the tail. It is very simple eh?
---
Step Two Okay, so we know there is no such creature with a straight back so let's give her a nice curve for the backbone. You will notice the spine curves down from the neck to the tail tip. Draw this in as shown on this sketch.
---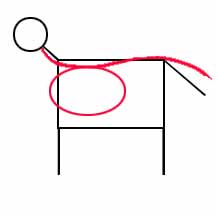 Step Three So what is the next largest part of any animal? Usually the rib cage. This extends from the front legs (which usually carries more weight than the back legs) to just over halfway near the tummy.
---
Step Four Here we?ll draw in much stronger shapes as they are the basic structure for the legs. You have shoulder blades similar to your own which control the movement of your arms—and so it is with this dog shape where her front legs will be attached.
---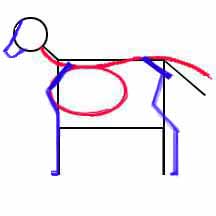 Step Five Draw in the zig-zag for the back leg, make it a strong line and a similar line for the front leg. Copy this drawing. The front leg should be a little straighter. Now put in a small shape for her head which is shaped like a cup to show her mouth. These drawings should be drawn freehand.
---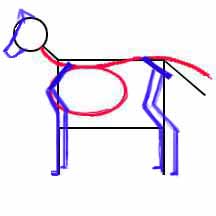 Step Six Let's put in the other two legs, front and back as in the drawing here. These will be almost the same as the first two you put in. Also draw an upside-down V to indicate where her ears are going to be.
---
Step Seven Erase all your original guidelines. Draw in the neck lines that flow into the top of the front legs and make the top neck line flow with a gentle curve into her back.
---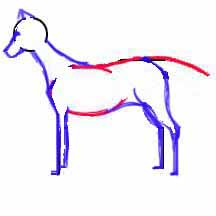 Step Eight Final step. Rub out most of the guidelines you put in and draw a curve showing the large muscle in the back leg...just a gentle curve, that is all it needs. And now you are done, just color it in.
---