Draw Cartoon Animals the Easy Way
Here is the first lesson on how to draw cartoon animals. Let's start off with the easy-to-do elephant cartoon.
Start with a simple oval shape using a pencil, preferably a softish one like a #2. Be completely free with your hand and wrist movement to create the oval in one sweep.
If you are new to cartooning, copy as near as you can to these drawings from Step One through to the last one.
All animals have basic shapes and can be drawn using only an oval, square, a rectangle or a triangle.
Cartoons are basic drawings (and sometimes paintings) that express fun stuff whether that be animals, people or other living or imaginative creatures
Draw Cartoon Animals With Ease, This Way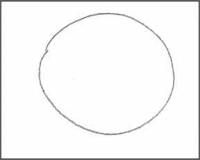 Step One Draw just a simple semi-round shape in one movement...don't feel timid if you've not drawn this funny stuff before. Practice several times to loosen up a little or just doodle then you'll say "Yeah, I can do it!"

---
Step Two The elephant trunk should be quite easy...try drawing it without taking your pencil off the paper...the same with the tail. A swift movement of the hand always looks better than just fiddling with your lines.

---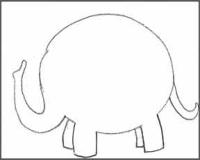 Step Three Now draw in the legs and see they are nothing but blocks which you can make look round-ish by making a slight curve on the bottom. You can also put in her 'nails' if you like. Do you know how many there are on each foot?

---
Step Four Now draw in the eye and ear and, if you like, you can draw in a tusk making it an African Elephant.

---
Step Five This is the coloring-in stage so use your creativity here and use unusual colors, bright blues or reds or greens as this is mainly a decorative cartoon. There will be lots more free lessons on how to draw cartoon animals—from farm animals to your pets, to those big animals you see in the jungle.

Click on the link below in the blue box which will take you to many tutorials on how to draw the easy way as shown in this tutorial.



---