Original Easter Coloring Pages You Are
Going To Color In And Have Fun Doing It!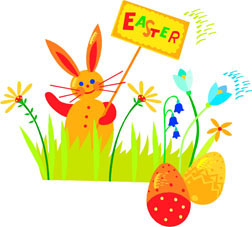 Easter Coloring Pages For Kids
Easter is that wonderful time of the year when we celebrate the commemoration of the resurrection of Jesus. This is usually on the first Sunday after the full moon.

Ok, what shall we color in for Easter?

You can play these Easter games anytime, not just Easter. But coloring in these images can be a lot of fun.

Easter is that wonderful time of the year when we hide hundreds of chocolate eggs for the kids to find-or is it the bunny that hides the eggs?. Some kids find a lot and scoff some of that sugary stuff down which soon gives them a high to find more. So when the kids wake up the big hunt is on and the fun begins.

What do we associate with Easter that we can draw and then color-in? We've got rabbits, chicks, Easter Bunny, decorative chocolate eggs with bows tied around them; lilies are associated with Easter and a few other flowers. So put your Easter Coloring pages on steroids and dazzle your friends! It does not have to be Easter time to color in these pages, it can be anytime really.

Chocolate Eggs Anyone?
Some of the earlier bunnies were made of pastry, butter with loads of sugar and then it became fashionable to make them in chocolate. I love chocs, I bet you do too.

For Kids of all Religions
Secular kids (non-religious) enjoy the big hunt and the bunny represents fertility and the egg represents the beginning of life. Christians, Mormons, Jews, Hindus, Muslims and any non-secular kids can join in and have fun. It really is a kids' thing but adults can join in and be creative.

Those yummy chocs are worth hunting for, even if it takes the whole day! I used to get quite a high after gobbling a few bunnies and eggs. Mother used to hide them in the cool closet just before Easter day until I discovered her hiding place. I used to be able to run much faster than her so some of the loot was never recovered for her to hide for the other kids on the block. Yeah, I know, it was not very nice.

So what shall we color in first with these Easter Coloring Pages? Eggs might be a good place to start with some really fancy ribbon tied around. Try and use bright colors to kick off with and maybe a slightly mellower one for the eggs. For chicks and bunnies try bright yellows, oranges and reds. Yep, supercharge your colors and show everyone what you can really do. Funky colors are in fashion now and they will delight the young AND the old. So how about giving your colored-in Easter masterpiece to Grandma and Grandpa?

Copy and print any of these images including all the drawings—and there are loads of them. All thumbnail pics are clickable to a much larger image which opens a new window when you click on it. Then press Ctrl+P to send it to your printer.
Happy Easter Time - Scroll down for your Easter coloring pages!
| | | | |
| --- | --- | --- | --- |
| Easter Chick | Easter Mom | Easter Chick | Easter Bunny |
| | | | |
| --- | --- | --- | --- |
| NY Easter Duck | Easter Egg | Egg and Chick | Bunny |
| | | | |
| --- | --- | --- | --- |
| NY Easter Duck | Easter Egg | Egg and Chick | Bunny |
| | | | |
| --- | --- | --- | --- |
| NY Easter Duck | Easter Egg | Egg and Chick | Bunny |
A Kid-Friendly Family Site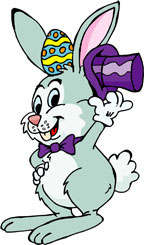 There is something special about Easter for children, lots of fun in discovering all those yummy eggs!
Funny Easter Cartoons
Bookmark the site to get your daily dose of hilarity and don't forget to send the link to all your friends, after all it's not an inside joke! Bring a smile to the face of everyone you know and tell them where to go!
Funny people are great to be around, their antics can seem insane at times, it is the laughter they bring that keep the rest of us sane. Everyone has a different sense of humor but funny people seem to be able to hone in on their audience and be able to make people laugh.
Enjoy This Site?
Then why not use the button below, to add us to your favorite bookmarking service?



Get your FREE monthly newsletter. Each issue will have lots of funny things, funny pictures, crafts, learning how to draw tips, games, coloring-in pages and kids fun activities. See box below.
Copyright © 2008-2010 All Rights Reserved Family Fun Cartoons