Family Book Reviews - What's Best For YOUR Kids?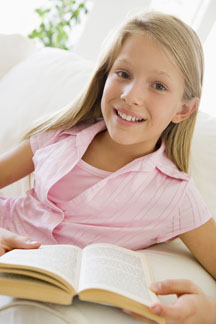 Educational and Interesting for Children

When thinking of things to do as a family, writing family book reviews are something that can be educational for children and interesting for parents to read, when seeing what their children got out of a particular story. I'm sure there are probably books on your shelves that you read to all the children or they read themselves as they were growing up.
Are your children of different ages?
Picking particular books to use for a family book review can let you see different points of views, if your children are different ages. They make great scrapbook entries for many years from now.
Family discussions on their books
There are places for book reviews on the Internet, too, if they are particularly interesting, but many families like to discuss books and have each family member write particular paragraphs about different qualities of the books for personal enjoyment. Book reviews can become a weekly occasion that can be a good way for a family to bond through reading, sharing, and practicing creative writing and expression.
Find the best and worst
A fun way to write book reviews is to divide the review into sections such as character descriptions, plots, scenes, worst parts of the book, best parts of the book, and what would make a person want to read it. Have each family member write their respective review and sign their name with their age to give a perspective. This can be especially fun when there is a wider range between the children's ages. An adult can write down a young child's version of their section, if they are too young to do it on their own.
Want to discover new books?
Book reviews online help other families decide on books that are good to read. Some book reviews can be about classics, but the most interesting family reviews are on books that not many people have read. This can help discover books that might be overlooked ordinarily, but are very good for families to read. Book reviews can be about a book that an individual family member read and they can relate the story to the rest of the family. This encourages children to read and helps them to use their creative mind to write about what they got out of a book.
A weekly family review of books
Whatever method of book reviews you select—it can be an educational experience that encourages reading. Some families will do family reviews on books that they may be getting ready to donate to a library, as a way to remember what they got from the story. This is a way to get rid of clutter, once books have been read and pass them on to others that might want to read them. As a family, you can do your weekly family book reviews, critique whether they include a good summary of the book, and then make a donation box of books that you are finished with.
How to encourage reading
When you are teaching children about family reviews, it is important that each family member participate. Even small children will be able to tell you about a book in very simplistic terms that can summarize the story in a humorous light, in some cases. Giving each family member a role in family book reviews encourages reading, family bonding and participation and encourages creative thinking and writing skills.
---
---
Family Book Reviews
Do you have a good book to review for your children?
Do you have a review of a book others kids can share?
Other parents would love to hear about it!
What Other Visitors Have Said
Click below to see contributions from other visitors to this page...

A great book for kids - The Magician's Elephant - and a wonderful story

The Magician's Elephant by Kate Di Camillo This is the story of a little boy who is in search of his sister, who, he was told, was still-born. Not convinced, …
Please help me choose the right books.

Can anyone recommend children's books for my kids who are 5, 7 and 9 years of age? All of them have average reading skills for their age. I am a little …
A Kid-Friendly Family Site

For funny stuff check here.
Copyright © 2008-2010 All Rights Reserved Family Fun Cartoons