Fish Coloring Pages - Fish for All Colors
Fish coloring pages for young children and families
You will find a huge variety of fish to color in from the long-snouted pikes to the paddlefish, to the minnows and suckers. A lot of the fish you find will have interesting shapes, some funny ones and some of them look really ugly and scary. They are not all like that of course; tropical fish look quite beautiful with brilliant colors so let's color in some of these to start off with.
Fish Coloring Pages with a Wash
Lets put a blue wash in for the water, they can't live without it—nor can we. Use the brightest colors you can find which will be yellow, red and blue (the primary colors which all other colors come from.) I must say that using primary colors are not easy to put together and the result can oftentimes be jarring on the eyes. But, after a while, you will get used to it. Artists at the turn of the 20th Century used only primary colors.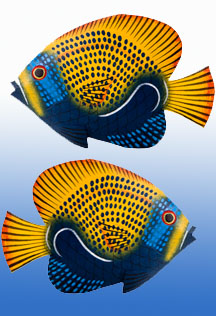 Getting the 'Feel' with Fish Coloring Pages
Isn't it great to be able to put together colors which can express exactly what you feel? Don't think about the theory of color—there is soooo much information that it would overwhelm you, and you don't need to know it anyway. Just do what you feel is best and it will turn out just great.
Fish Coloring a Stepping Stone
But that is not important if you are just starting out on your painting career. And it does not matter a bit if it turns out to be something you do not like at all. Art and painting is not really a "failure" but only a stepping stone to something that people admire. All the truly great artists in history had to start at the beginning and that was sometimes tough in the past two or three centuries. Today, we have modern materials which the masters did not have, so use these modern paints and crayons (and very, very bright acrylics) to start with.
A Thin Wash Background for your Fish
Use *opaque colors as well as translucent (semi transparent) to give your painting a delicate feel as if your fish are really playing in the water. Put a thin wash in first (or go very lightly with your crayons so you can still see the outlines) then start coloring in your fish.
To Print (see images below)
Click on any of the images you like which will open up a new window with a larger image. Then right-click or press Ctrl+P (command +P on a Mac) to send it to your printer.
---
Fish Coloring Pages - Click on image to print
---
---