Free Horse Coloring Pages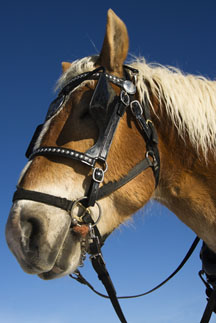 You probably love horses if you've landed on this page. Great! These free horse coloring pages we have a variety of horse breeds to color in—from cartoons styles which some of you may like—to the traditional draft horses.
Some of these are fat while others are lean and a tad mean. We have here race horses, farm horses, studs for breeding, ponies and show horses like the Lipizzaners.
If you have no idea about color or coloring horses, start off with grays. This will help you get your "values" correct. Color Value means the lightness or darkness of a color which gives an image or picture its "form" or roundness. Otherwise it would appear only as a line drawing.
If you have loads of confidence to try experimental colors then begin with really bright colors. Next thing you will have to consider is what medium you'd like to start off with: they can be crayons, pastels, watercolor paint, acrylics or poster paint. It will be easier to start off with crayons or pastels.
Make a note that with some of these mediums you can't paint light colors over dark, it won't work and will appear "muddy". With most of these mediums start with your lightest color then go to the darkest. This way you will achieve a nice effect. Use acrylic or poster paint if you want to paint light colors over dark as these mediums are opaque (you can't see through them.)
Notice the light values are nearly always on the top; for instance, the horse's back will be lighter than the belly and the same with the top of the head which will be lighter than underneath.
Don't be scared of using very bright colors for your horse, bright yellows, greens, oranges or cool blues. Your free horse coloring pages do not have to be the usual horse colors—drab brown or beige. There was a famous American artist called Andy Warhol who painted portraits, soup cans, celebrities to animals—all in very bright colors and they looked magnificent.
I recall my horse that used to live in the mountains and I'd visit him every weekend. He used to love raw molasses and followed me thinking he'd get another cupful. His name was Spiro who was a young horse and a little on the wild side. As he was unpredictable nobody else cared to ride him.
We will be adding lots more horses to color in and possibly some in their natural environment. So bookmark this page free horse coloring page or subscribe to the RSS feed.
---
Free Horse Coloring Pages; Get Out Your Crayons and Paints
To Print
Click on the images you like which will open up a larger image in a new window. Then press
Ctrl+p (Mac: Command+P)
which will send it to your printer.
Please note that these thumbnail images are distorted to fit in with the page width. When you click on the image which opens a new window, the horse will be the correct proportions.