Frugal Family Fun
by Martinique Buccaro
(Tuscany IT)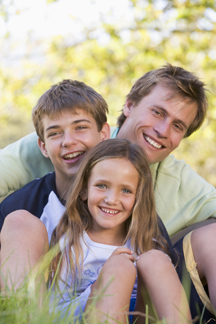 Family Having Fun
It's The End Of The Month And We Are Having Some Frugal Family Fun.

Why does there always seem too much month for too little money? Sometimes money can get so tight that for the last week of the month I have to start reverting to tips I used in my student days to make the pennies stretch further. Now I don't mean eating beans on toast for every meal, or having pasta with, err, pasta, but trying to find more frugal ways to have fun with my son.

So I thought I would share some of my cheap family activities for frugal family fun. Here are some low cost ways to have family fun. Having little spare money does not have to mean boredom for your family. You can still have family fun without having to spend too much. Here are some ways to keep your family entertained without putting a big dent to your budget, and maintaining happy families and health.

Fun Things To Do As A Family; Gardening is one of the most productive and yet less-costly ways to entertain oneself. If you have the kids helping, you can double the fun. You can have so much fun growing vegetables and fruits that you can also use to make your own meals.

This means more savings for your family, as well as promoting good health and family life.

Watch your Local Sports Team. From football, rugby or hockey. Kids enjoy watching sports. Support your local sports team by adding yourself and your kid as part of its cheering team. Look out for local free events, such as village fetes, town shows or festivals to visit. Check magazines or websites for event listings in the area.

Visit your local museum, which is usually free or has cheap admission, especially when they have family-friendly events or exhibitions running.

Turf out the junk in your, cupboards, attic or from the back of your garage and run a garage sale - get the kids to make some posters that you can put up around the neighborhood.

Great fun, and an inexpensive way to earn some extra money. Do you own a tent and some camping equipment? Shake off the dust and set up camp in your back garden. Get the camping stove out and cook some hot dogs and baked beans for supper.

Do you live near a family attraction? Check out their annual or family membership packages. Buy these at a time when you do have a little spare money, or ask for them as a Christmas or birthday gift. This will always give you an exiting place to go when money is low. Get on the internet for some free fun.

With most of us using broadband with monthly payments instead of the old-fashioned pay as you go type connections, making use of the internet is great when looking for family entertainment.

Watch some hilarious videos, or watch movie trailer clips to see what's about to be released at the cinema. There are also loads of online games you can play for free, just do a search for free games and lots of sites will come up.

You can even get nostalgic with space invaders and Pac-Man. My son really enjoys playing on sites that are specifically designed for children, but that also have an educational slant, so kids will learn while they are having fun. These sites are all free to play, and you don't have to pay for memberships unless you want to.

Have a family day. Whether you play Scrabble, Monopoly, or another favorite board game, watch DVD's together, or even getting into the kitchen to bake some cookies or make a cake, setting a regular family day doing these simple and yet fun activities will condition your family to look forward to less expensive ways of having fun. It's a great way to bond with your family.
Click here to read or post comments
Join in and write your own page! It's easy to do. How? Simply click here to return to Share Your Moments of Family Fun.
---