Funny Birthday Sayings To Lighten up the Occasion!
Funny birthday sayings...Ah! Now don't we all love to brighten up birthday parties and greeting cards with clever, tongue in cheek sayings that show our family and friends how smart we can be, not to mention the fun and humour it adds to the occasion.
Picture yourself with a large group of friends at a birthday party, presenting a card to the birthday boy/girl with a couple of funny birthday sayings on it. What's the reaction? A roar of laughter, amusement, cheer and some friendly teasing going around in the room. Or even imagine yourself opening a gift or a card to find a witty saying inscribed on it. Tickles your funny bone, doesn't it?
Of course, you don't need any special occasion to create a little bit of humour and some good spirited fun around you but then birthdays are a lovely time to combine the joy and celebration with some jesting. You can get others to participate in your fun, strengthen bonds and create a pleasant and enjoyable party atmosphere that sets the pace for the rest of the day.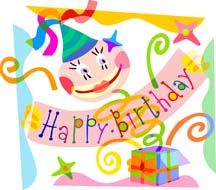 You can even insert the funny birthday sayings in birthday speeches, songs, invitation cards or on the cake if you want to get a wee bit creative and add spice to them. Not just kids, even adults enjoy a good dose of laughter that relieves them of their daily stress to create a few light hearted moments. So you can give your grandma a card with a line that says, "You know you are getting old when the candle costs more than the cake" or a gift to your dad with a note that says, "The best way to remember your wife's birthday forever is to forget it once." Grandpa will be chuckling a little when he reads, "Looking fifty is great when you are sixty."
You can even impress other people by having your collection of funny quotes handy. Dad will love you for bailing him out of the situation where he forgets mom's birthday with a saying that goes, "How do you expect me to remember your birthday when you never look any older?" The young at heart, naughty forty year olds can be presented with this gem, "You're not forty, you're eighteen with twenty two years of experience." The men will go gaga over this one which says, "A diplomat is someone who always remembers a woman's birthday but never her age."
Your cousins and peers will cackle at "I love birthdays. They are nature's way of telling us to eat more cake." Or even, "You are young only once, but you can be immature for a lifetime." Then there's another one that says, "The best birthdays of all are those that haven't arrived yet."
Use these sayings imaginatively on customized, hand-made greeting cards with a few funny pictures to make them more hilarious, or bake a cake with a humorous saying marked on it. You can even compose a witty tune to a bunch of funny sayings to showcase your talent and liven up the gathering by surprising the birthday boy or girl with a highly personalized gesture.
The gift of humour is truly priceless and works wonders in spreading the joy to make the occasion truly memorable.
More Funny Birthday Sayings To Lighten up the Occasion
Happy birthday to you, Happy birthday to you... We all know that one, and as we get older we here a lot more songs, wishes, phrases and funny birthday sayings. They come in all colors and shapes and sizes, so to speak.
Question: "What do give an 800 pound gorilla for his birthday?" Answer: "Anything he wants!" That's for sure. Give him exactly what he wants! The joke is not only funny but it's also good advice if you happen to know an 800-pound gorilla. Or even a 500-pound gorilla. Or even a...you get the point.
So, this kid went to her doctor, and she says: "Doctor, why do I get an upset stomach every time I eat some birthday cake?" The doctor tells her: "Quit eating the candles." Another very funny birthday saying.
Birthdays are just about the most fun ever, especially if the birthday is yours. The whole day is arranged around YOU! Your Mom gives you the biggest hug and the biggest kiss when you wake up on your birthday and your Dad will come home from work early so the whole family can celebrate YOUR birthday together. Birthdays are such a wonderful invention and everybody has one and they're free.
Did you know that birthdays are actually good for you? The more you have, the longer you live. Some people think that funny birthday saying is very serious, until they think about for a few seconds. Then they realize that of course if you have more birthdays the longer you will live. And then they laugh. Oh well, as you get older, three things happen. The first is your memory starts to leave you and I can't remember the other two. That, of course, was an older person's funny birthday saying, maybe a grand parent or a gray-haired uncle. It certainly doesn't apply to kids, because their memories are only getting better as they grow older.
I scream, you scream, we all scream for ice cream. This saying is as old as the hills, but it's still used today. It works because it's a singsong saying that makes it easy to remember and we all love ice cream, which also helps us remember this saying. What would a birthday cake be without ice cream? That's a question, not a joke. Ice cream on the same plate as a slice of birthday cake makes it seem complete. And more delicious.
The reason people are so inclined to be funny on your birthday is because they simply like you and want to see you have a good time on your special day. They want to see you smile all day long. So, the more jokes and funny birthday sayings they can tell you, the happier you will be and the happier the whole party will be. It always works like that.
---

Birthday Sayings
Birthday Sayings
Funny cartoons are a great way to laugh and bring more happiness into your life. Laughter is contagious and so is clean humor found at



Family Fun Cartoons.

Enjoy This Site?
Then why not use the button below, to add us to your favorite bookmarking service?



Copyright © 2008-2010 All Rights Reserved Family Fun Cartoons