Funny Voice Mail Messages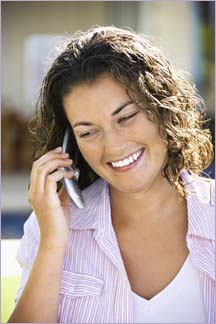 Our culture has become entirely too serious. Funny Voice Mail Messages are changing seriousness we have so much of - so don't say there's no room or time for fun and laughter.
We need to spend more time joking and laughing together as family. Creating funny voice mail messages as a family can be a lot of fun. It can also bring laughter into your day as well as your buddies. Whether it is the family answering machine or your personal cell phone, coming up with messages to do together is sure to create a lot of giggles.
Starting out can be a little difficult, so let's get some ideas together. Know what needs to be said in the message and let go of what isn't important. However, don't plan to follow the plan. Children don't usually need any help in being silly. Adults can learn a lot from kids. Of course, you do want people to understand what you are trying to say—so say it in the language they understand; for tweens and teens it has to be in cyber language; BFF (best friends forever type stuff or whatever communicates best).
A suggestion for getting started would be to let the sillyness hang out. Kids tend to do better when they can get the silly out in the beginning. Record each message and listen to it. It is totally okay if you listen to it more than once. You don't have to discard it right away. If it's funny, listen to it a few more times. If it isn't exactly what you are looking for in your message, then take what you want from it and try again.
It is important to remember while making your funny voice mail messages that people can't see you. You will need to make sound effects for anything you do. So, if for example, kid is pretending to hit dad over the head, you will need to create a sound for the hit and for dad collapsing. So get a newspaper and practice hitting dad over the head - but gently (just kidding).
Try to get the personality of every family member in the message. Each member of the family has a dynamic part in the family chemistry. You don't want to leave anyone out. Heck, you could even try to find a way to include the family dog if they can speak! This is your family and your message. You run the show.
The idea here is to have fun with your messages. You will get the right message later and with a little practice you will even appear on America's Got Talent. For now, just have fun!
"Hello. you've reached the Sherlock Holmes Detective Agency. We know who you are and what you want so when you hear the dial tone, hang up!"
---
Funny Voice Mail Messages

Funny Voice Mail

Funny Voice Mail
Funny cartoons are a great way to laugh and bring more happiness into your life. Laughter is contagious and so is clean humor found at Family Fun Cartoons.
Enjoy This Site?
Then why not use the button below, to add us to your favorite bookmarking service?



Copyright © 2008-2010 All Rights Reserved Family Fun Cartoons