Funny Animals Where Kids Can Laugh All The Way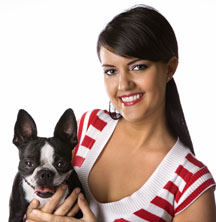 When we look all around us, we can see that funny animals are everywhere, just waiting to make us laugh. They take a look at what we do and try to be like us. Cats and dogs in our homes try and copy the things we do. You might find your kitten jumping around on the keyboard of your computer. It is upto you to guess if it was testing how it feels or checking out tuna fish prices over the internet.
You can even spot it trying to use your mobile as a chew toy. One of my friends has a picture of his cat sticking the paw out. The cat looks as if it?s about to shoot someone with the paw. It's one of the cutest pictures I?ve ever seen.
Dogs are not far behind when it comes to making us laugh. Several people have woken up in the morning to find their dogs seated on the couch, newspaper in mouth. You could imagine that he was reading stock updates and you would start to smile.
Most dogs are afraid of bath but there are some dogs that get into bathtubs to feel bubble baths. When you are feeling low and depressed, there is nothing better than funny animals to cheer you up. You can play and laugh whole day if you have a puppy. They keep on going around in circles, chasing their tail. When they get tired and their eyes droop, they look adorable. You can tie a bow on their head and take some funny pictures for your friends.
A great place for a relaxed session of fun is the zoo.
If you take a camera with you, you can capture lots of precious moments. The zoo has lots of funny animals from monkeys and giraffes to birds and ducks. Monkeys make faces that can have you roll over with laughter. If you gave a banana and made faces at it, it would roll its eyes and stick out its tongue. You can capture the picture easily and keep it with you to laugh when you want. The giraffe looks like a tall building when it stretches its neck out. The ducks can always make you laugh when they fight in the pond, flapping their wings and looking like little dolls in the water.
If you want the animals to talk and be like us, you can always switch on your favorite cartoons or comics. Bugs Bunny can make anyone laugh when he eats the carrot and makes a fool out of people. The road runner has a really funny beep sound and keeps outsmarting the coyote. Daffy Duck can make weird faces and you even have a mixture of two animals in CatDog.
Comics can be great fun as you read about Garfield who eats and sleeps all day. Calvin's pet tiger Hobbes is good at doing homework and pretending to be a pirate. Snoopy in Peanuts is a qualified attorney and lawyer. You can also come across dragons and dinosaurs that talk and make you laugh. The world might make us tensed at times, but funny animals will always be there to bring the smile back on our face.
---
Watch these really funny Animals Doing Crazy Things

Family Fun Cartoonsv>