How To Draw Dragons Step-By-Step, The Easy Way
How to draw dragons can look complicated but if you can see the basic shapes as in these steps you will find it quite easy to do and you will become a master in no time.
Dragons come in all shapes, slippery sizes and colors—this is due to their mythical past. There have been countless paintings done of dragons by famous artists. Different cultures depict different dragons. For example, the Eastern dragon is quite unlike the dragons you see in modern day novels—like Norbert in Harry Potter and then there is Smaug in The Hobbit by Tolkien.
Remember Eragon in a fantasy novel by Christopher Paolini? Eragon had a dragon named Saphira—so there are lots of present day dragons to draw from.
Dragons are really mythological creatures breathing fire and usually seen more reptilian than anything else. Here, we are going to draw a friendly dragon cartoon style, smiling as if he wants to play. How to draw dragons is based on simple shapes using mainly lines drawn with a pencil. We will get down to drawing fierce fire-breathing dragons later and there will be lots of time to use your fantastic imagination.
Here's How To Draw Dragons If You Are Eight or Eighty!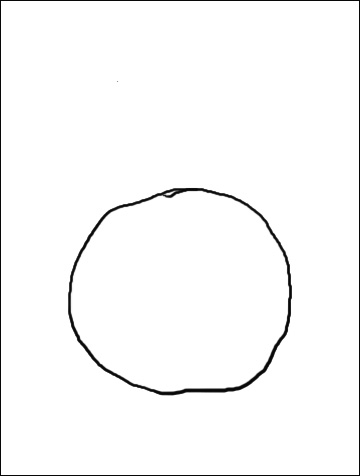 Step One Use copy paper to start off with and a #2 Pencil. Be quite free with your hand and wrist movement in this first step. Draw a nice roundish circle as shown here—just one swift movement of the hand.
---
Step Two Now draw two straight lines to represent the neck as show in this drawing. This should be drawn cartoon style and so perfection is not necessary. Again, be quite free with your hand movement.
---
Step Three Draw an egg shape for the head on top of the two lines you have drawn.
---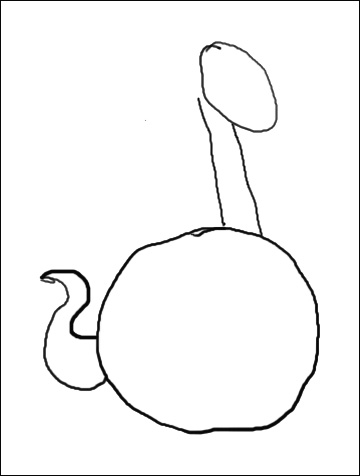 Step Four A simple S shape here for the tail.
---
Step Five Draw all the small bumps on his tummy. The best way to do this is to keep your pencil on the paper and draw from the top down. Then do those wavy "hooks" on the back of his neck and on the top of his head. Have a look at the drawing here. Now you will need to draw those upright lines which will become his legs, see the drawing here to get an idea.
---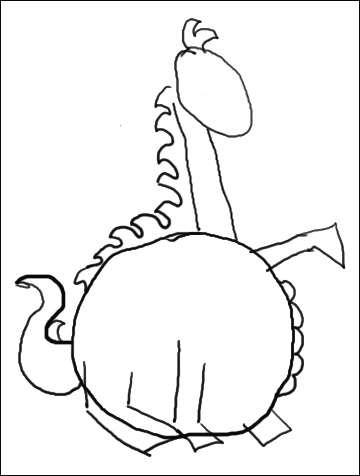 Step Six Change those straight lines you did for his legs to wavy lines as shown here. The wavy lines do not have to be 'anatomically' correct—just a wavy line will do. Don't forget his left leg or hand sticking out. The hands or feet can be drawn with V shapes like the drawing here. You can put in a dot for the eye and a curved line for the mouth. Copy the drawing here.
---
Step Seven Now is the time to dress up your drawing with color and fine tune some of your lines. He is a happy dragon so give him lots of bright color.
---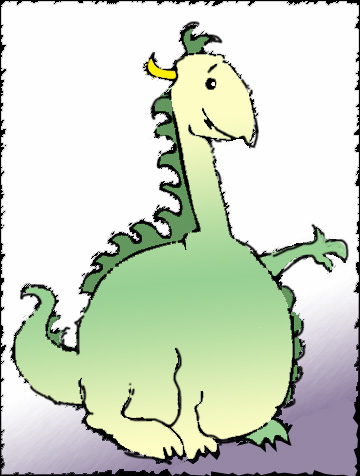 Step Eight Color in this fiery (and friendly) dragon with your favorite colors.

---