Kids Beds For The Land of Nod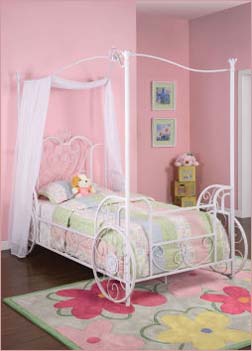 Bunk beds, trundle beds, car beds, princess beds, toddler beds, loft beds, futon beds, four poster beds, sleigh beds, kids' canopy beds...Holy Smokes, when does it end? Well, hopefully, it won't end anytime soon, because kids' beds are one of the most important pieces of furniture that parents can buy.
Your child will use that bed more hours in any given day, than any other thing in the entire house.
The type of bed children have can stimulate their imagination while at the same time make them feel secure and comfortable.
The child's bed is so important that it can even keep their little feet out of the crocodile infested waters that only they can see on the surface of their bedroom floor.
When shopping for kids beds, several things should be taken into consideration: the bed has to be comfortable, it must be the right size for a growing child, and it needs to be safe. Once these needs are met, then the choices are just about style, personality and fun.
Bunk beds are some of the coolest designs in the history of beds. Besides being extremely economical in terms of space usage, they're a lot of fun for the two lucky siblings who get to share them. Bunk beds are basically what everyone has secretly wanted at one time or another in their early years, even if they were an only child. Did you ever fight with your sibling about who was going to take the top bunk?
Trundle beds are actually two beds in one. The one you see is not all that you get. There's another bed tucked in those drawers on the bottom. Pull out the drawers and you pull out another bed. Great for a BFF, (Best Friends Forever), sleepover or for two kids in the same family sharing a bedroom. Trundles are just great kids' beds—and once they've seen on online or in the store—you'll have to fork out Mom or Dad.
Canopy beds are quite popular nowadays. It's funny how things come around again. Why only four hundred years ago these beds were the rage in England and the rest of Europe and now they're back. Who knew? Canopy beds are great to sleep in when you can shut out all your nightmares and the mosquitoes!
Themed beds are here to stay. Whether it's a racecar bed, a princess bed, a Star Wars bed, a Ben 10 bed or a Transformer bed, your child can snuggle comfortably in the endless imagination of their own fantasies, all in the comfort and privacy of their own bedroom. Sweet dreams in the land of Nod.
Kids Beds and Furniture by AllChildrensFurniture.com
---
Kids Bunk Beds, Trundle Beds, Princess Beds
Great Kids Beds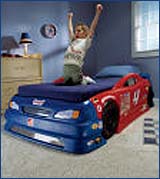 Toddlers Fun Beds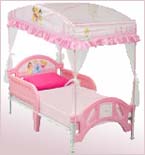 Funny cartoons are a great way to laugh and bring more happiness into your life. Laughter is contagious and so is clean humor found at



Family Fun Cartoons.
Enjoy This Site?
Then why not use the button below, to add us to your favorite bookmarking service?



Copyright © 2008-2010 All Rights Reserved Family Fun Cartoons