Kids Humor Helps Their Communication Skills
Humor for kids is a creative way for adults to communicate with them. By using kids humor to get a point across, adults are more likely to get a child's attention and allow them to have a positive attitude, even if you are using humor for kids to get them to perform a task they might not like doing. Kids laugh an average of 400 times a day, where adults average 15 times a day. It is easy to see why humor for kids can help you communicate with your child and it can lighten their mood and yours.
There are a few rules you should abide by, when using kids humor. Don't let kids think that belittling humor is funny and don't use it yourself when coming up with funny things. Watch the things that your children see on the television, Internet or hear in movies because it might be mean-spirited humor that you don't want them using.
You can use humor for kids as part of their daily ritual, such as before they leave for school, during dinner conversation or right before they go to bed. Make it a rule to bring home good, funny jokes that you can share with the kids and ones that can make them laugh over and over, no matter how many times you tell it. Other than that, you should help your children learn that there is a time and place to be funny and they should use kind-spirited kids humor when they want to be funny.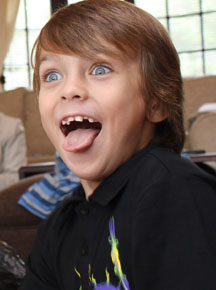 You need to use humor for kids that are age appropriate jokes. Young children will find goofy stories funnier than older children, who might like funny riddles or poems. Your child will likely enjoy humor for kids that seems the most funny to them, but don't be dismayed if they don't get certain jokes or funny stories. Clean jokes and stories they can tell at school or to their friends are the best type of humor for kids.
Some parents like playing little humorous games. A favorite family game that brings laughs for many children is using rhyming words that call something by the wrong name. Your children will like making up the rhyming words to carry on simple conversations as you tell them the rules and give them examples. You can make up variations of this game by naming things that are similar, yet different to let your kids catch you and get laughs while they think up their own versions.
At the dinner table, you can ask them to pass the flutter, (instead of butter), or going out to play you can tell them to put on their kittens, (instead of mittens). Other variations using humor for kids is telling them it is time for them to go to work, (instead of school) or saying it's time to eat breakfast, (instead of dinner). This makes it more fun for you to use humor for kids to give them little tasks to do and you get more cooperation using this type of humor for kids to get laughs at the same time.
Whatever method of humor for kids you decide to use, keep in mind that children mimic adults, so don't use any humor for kids you don't want them to repeat when you least expect it!
---
Kids Humor—Can Turn That Frown Around!


For funny stuff check here.
Funny cartoons are a great way to laugh and bring more happiness into your life. Laughter is contagious and so is clean humor found at Family Fun Cartoons.




Enjoy This Site?
Then why not use the button below, to add us to your favorite bookmarking service?



Copyright © 2008-2010 All Rights Reserved Family Fun Cartoons