My Funniest Moment
by Kamilla Liesel
(Westphalia)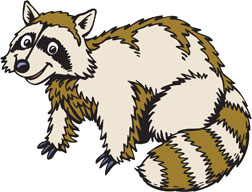 My Raccoon Friend - It's the only image I had.
My friend and I went to a cabaret to see a popular jazz musician. Sexy, Bad boy of Jazz, saxophonist Marion Meadows. After the concert there was a meet & greet so you could meet the artist and purchase cds.

My friend is confined to a wheelchair so we were the last people to leave the club and meet Marion. My friend can't talk, so I decided to do the talking for both of us. When our turn came I took one look at Marion and went into a state of dumbassness! I couldn't say anything except what a great time we had. The cd I took with me for Marion to sign.... ended up being signed to my friend because I was tongue tied.

A Happiest of Moments I acquired two orphaned raccoons through a private animal shelter. It was a brother and sister that were only a few days old. I took on the task of being their mother. I purchased kitten replacement milk and a couple of nursing bottles. They didn't waste any time and took to the formula right away.

I had an instant bond with the male and I knew returning him to the wild would be the hardest thing I've ever had to do. I knew right away he was special. I tried teaching them things they needed to know to survive in the wild. I fed them berries, various bugs, worms eggs, corn, fish and crayfish. They had their own pool that I stocked with minnows so they could learn how to fish.

The following summer it was time to let them go. That day was one of the saddest of my life. I couldn't sleep that night and cried until morning. I missed my special guy. I decided to go back to the park to see if I could find them and leave them something to eat. I started calling their names. I was shocked, the male answered me! I followed his cries until I found both of them together in a tree. I was thrilled to see them together and decided that I would bring them care packages until they learned to find their own food.

I lost them after about a week, it was like letting them go all over again. It made me sad to think I may never see my babies again. Five months later, I found the little girl. She remembered me but I couldn't touch her anymore. Nearly 3 months after that I found the male. He came to me like he had never left home and started playing with the buttons on my coat. I shed tears of joy. I've been leaving them care packages once a month ever since, it's goin' on 5 years now...
Join in and write your own page! It's easy to do. How? Simply click here to return to Share Your Moments of Family Fun.
---