My Funny and Affectionate Family Life
by Anandhi
(India)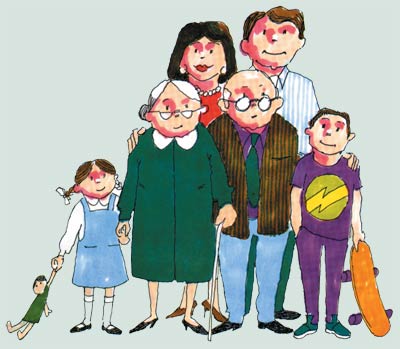 My family pic - that's me with the skateboard.
Now I feel very happy to share my feelings of happiness and affection with all of youl.

First I want to say that I am in a joint family . Think yourself how it will be. A joint family is the place where we will have more to share with many people and if we share our happiness it will double, so if I make a mistake, every one in my family will scold me together.

At festival time, my house will be filled with relatives and we'll enjoy this time together. As we have more members in our family at every function - this will be the best remembrance forever in my life.

Such a beautiful family I have in my life, and every family member has that much more affection for me, it just grows and grows.

Earning money is easy as anyone can in so many ways, but getting an affectionate family with so much love is easy also. Our Family has so much love and affection it really is fun living this way.

Really, my family is a gift to me.
Click here to read or post comments
Join in and write your own page! It's easy to do. How? Simply click here to return to Share Your Moments of Family Fun.
---