Our Family Fun Holidays
by Joyce Coleridge
(Somerset)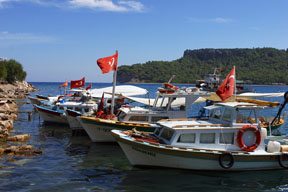 Kusadasi, Turkey
Turkey might sound like a relaxing prospect; the chance to unwind, soak up the sun and take in all the local attractions. However, the reality can sometimes be very different than the daydream. Finding a destination that has enough to entertain the children, with a good mix of activities to keep mum and dad interested can be a tricky task

Luckily, we've found the perfect destination in Kusadasi in Turkey. Why it's great for children--the long sandy beach is a child's paradise and the white powdery sand is ideal for building sandcastles. But whilst we all know that most children could happily sit on the beach for hours building sand palaces, the resort of Kusadasi has plenty to drag them away. Not least the azure blue ocean which offers a haven of water-sports, perfect for slightly older children.

There are banana boat rides, jet skiing and yachting for the active, whilst the resort also offers three fantastic water parks. One of the water parks, Adaland claims to be the largest in Europe and its fantastic dolphin shows ensures that it stands out from the competition. In between the dolphin displays there are plenty of log flume rides to keep the children entertained, from the wild kamikaze winder to the slightly gentler rainbow ride.

On your family holiday in Turkey, be sure to check out the park's newest addition, Sea Park. Here children and adults can snorkel alongside tropical fish and even take part in a specialized dolphin encounter program. Why it's great for Dads...Dads can be tricky when it comes to arranging family holidays, Turkey however has something for everyone. While mum is often perfectly content to spend hours sunbathing on the beach with the latest romantic novel, it's fair to say that dads are usually after something a little more cultural.

Therefore, Kusadasi is situated in the perfect location; Epheseus, Pammukale and Didyma are all less than a few hours' drive away from the main resort. Epheseus is the closest historic attraction and it's safe to say that a visit to Kusadasi just isn't complete without taking a day trip.

Another activity that's bound to appeal to fathers and sons alike is the adrenaline-packed Jeep Safari. This day-long action packed adventure takes in the mountains and valleys of Sirince and contains frequent water fights between the other jeeps. The Jeep Safari finishes at the Cave of Zeus, where the deep blue mineral water inside the cave makes it the perfect place to cool off at the end of an adrenaline packed day.

Why it's great for Mums...The chance to relax and escape from the stresses and strains of daily life is why mums love family holidays. Turkey has plenty of sandy beaches for mums to unwind on, but whilst sunbathing on the beach may be all very well, if mums want proper relaxation then nothing beats an authentic Turkish bath experience. Whilst laid on a stone slab, a tellak will scrub and exfoliate your skin with a coarse mitt and some thick black soap.

A good tip is to visit the hamman on the first day of your holiday as the exfoliation will prepare mum's skin for the sun, allowing her to tan more easily. The perfect ending to Turkey family holidays is a family meal at an attractive local restaurant. Try Bul Bul for delicious meze and succulent kebabs and then end your evening at the Dejazar Wine Bar which offers spectacular views out over the marina.
Join in and write your own page! It's easy to do. How? Simply click here to return to Share Your Moments of Family Fun.
---