Our mountain getaway
by Kirsten
(Angola)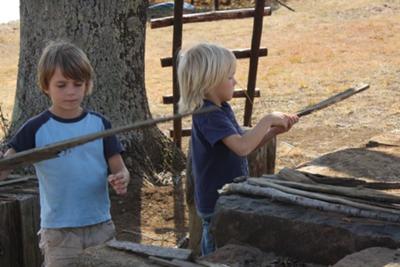 My Boys at Play
Living busy corporate lives we hardly ever get out to nature any more, and it was a surprising and fun filled weekend when I organized an impromptu holiday up in the mountains in Southern Africa, not far from where we live.

The kids actually moaned about having to get away from their computers and their dvds and their indoor activities (we live in a hot, harsh climate and they rarely get out of doors). When we arrived at our picturesque place beside a lake, I packed up a picnic and we went to sit in the shade of a huge tree. After a few minutes the kids discovered all sorts of things in the bush and around the lake.

After half an hour I could hardly drag them away to come and eat! After a few hours I had to physically haul them away - they had the best fun they have had in a long, long time and didn't want to leave. Playing with sticks and pebbles and gallivanting around the lake was a simple yet pure fun that we were fortunate to experience.

Kids should be kids for as long as possible, and not forced into our busy and hurried lives. Take time to relax and get back to nature, it's the best family fun!
Click here to read or post comments
Join in and write your own page! It's easy to do. How? Simply click here to return to Share Your Moments of Family Fun.
---