Enchanting Penguin Coloring Pages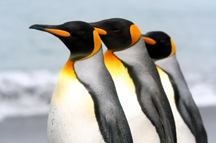 Penguin coloring pages can be a lot of fun combined with creativity if you've seen and enjoyed the movie Happy Feet. Most children have been enchanted by the movie and subsequently by penguins.
It is a pity these delectable birds can no longer fly but they've made up for it in their prowess in the water—and that water is not warm in Antarctica I can tell you although I've never been there. So their wings have now developed into flippers that guide them through water with the greatest of ease almost as if they are flying!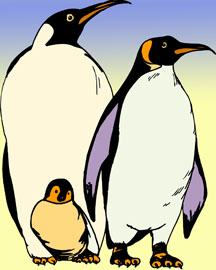 Their mobility on land is not so good. Short stubbly legs, a bulging tummy combined with smooth feet with little or no traction on the ice makes them an easy target for predators.
Mum and Dad Penguins are usually a devoted couple quite unlike other animals who actually eat their offspring. Hey, that's awful eh? Father Penguin looks after the eggs also as well as Mom which they keep warm and protected from those nasty beasts of prey.
With the extreme cold in the South Pole the eggs have to be kept warm which is one of the major tasks for Mom and Dad. And Daddy Penguin will keep the egg on top of his feet with his bulging tummy hanging over the egg to keep it warm and protected. Did you notice in Happy Feet how this was done?
This was also seen in the other documentary film about penguins called March of the Penguins which was quite fascinating to see them walk for miles and miles in bitterly cold conditions to get food for their youngsters. They walked to the edge of the ice shelf (the nearest place they could find before the winter froze the water and then of course if that happened they could not catch fish.) Then after they filled their bellies with food for their young ones they had the long trek back which seemed endless. What a hard life eh?
So what has this to do with coloring in penguin pages? Nothing really except it is quite fascinating to know a little about the lives of penguins and their habits.
Knowing a bit about these lovable creatures can give you an idea of what colors to put in even though their main color is white and black. You can have pink penguins or bright green and, believe me, they will not mind one bit!
To Print Click on the penguin you like which will open a new window with a larger image. The press Ctrl+P or Command+P on a Mac to send it to your printer. Enjoy these lovely Penguins.
Penguin Coloring Pages Here
---