Picasso Coloring Pages come to you with apologies to one of the greatest 20th century artists; Pablo Picasso. He is considered to be the father of modern art.
He is well known for his Cubism paintings (3D cubes/box style) which he created alongside Georges Braque—who perhaps was not as versatile as Picasso.
As you may well know (and worth mentioning for those of you who are not familiar with Picasso) - his versatility extended from a young age when painting through his "blue period" during which he had rather a bleak outlook on life which showed through in his paintings as rather somber—to his "rose period" which was a much happier time of his life.
Picasso was also influenced by African art especially masks although this was never considered his "African Period."
Taking drawing lessons from his father when he was 7, was a great start for such a passionate artist—his father being a professor of fine art—even though they disagreed on many things.
Picasso's most famous work was his portrayal of the Nazi bombing of Guernica during the Spanish civil war in 1937—the painting depicted the horrors of war and the effect it had on people. It is well worth studying this painting to see how a true master captures the horror!
You will not find anything like this on these Picasso Coloring Pages
As a well-know celebrity, he was also a sculptor, ceramicist, he painted on walls, furniture and any surface he could slap paint on. Out dining with a friend in France, Picasso expressed something to his friend on a paper napkin which his friend sold for a considerable amount of money!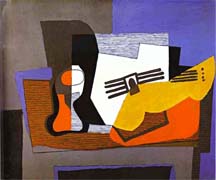 He was without doubt an extraodinary painter, had loads of humor with his family and friends, dressed a lot of the time in a loin cloth and showed an interest in almost everything—even up to his death at the age of 92. He used to make comments like "Everything is in constant change" and "Nothing remains the same" as he used to visualize how forms would appear in the future.
You can learn a lot from coloring in these Picasso pages, how he handled the form and how his style evolved over his lifetime.
With these Picasso Coloring Pages you will get a "feel" for his cubism style. But take note of how he distorted faces, hands, figures and feet. How 2 dimensional surfaces can appear 3D; it is truly fascinating.
Picasso coloring sheets are here for your creative juices to flow like a master. Use bright colors with no restraint then you may even rise in this great world of artists alongside Picasso.
To print these pages click on an image you would like to start off with—it will open up in a new window. Then press Ctrl+P to send it to your printer.
Free Picasso Coloring Pages—Can Bring a Smile to Creative Kids!

Family Fun Cartoons

Family Fun
Funny cartoons are a great way to laugh and bring more happiness into your life. Laughter is contagious and so is clean humor found at



Family Fun Cartoons.
Enjoy This Site?
Then why not use the button below, to add us to your favorite bookmarking service?



Copyright © 2008-2010 All Rights Reserved Family Fun Cartoons