Polar Bear Coloring Pages For Kids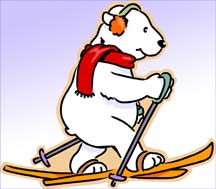 Polar bear coloring pages are designed for young children who love animals, especially polar bears.
Although they are mainly a very light yellow in their natural habitat the arctic circle, these can be colored in using your brightest colors to give your bears more life and more fun to look at.
Polar bears are created almost as if they have been designed in a wind tunnel, with a streamlined head and body. They move incredibly fast through the snow—25 mile per hour—but this is nothing to do with their streamlined body. Their swimming speed is also phenominal and would probably win an Olympic gold medal. Watch out, Mr Phelps!
Notice when you are coloring in that all these cuddly polar bears, they have a black nose and there is a story about that going back hundreds of years that they covered up their noses with their paws to camouflage when the Inuit hunters were on the prowl. Also their eyes are a little like ink spots on a sheet of white paper. You don't have to color them in with black so create a lovely bright color. Make the eyes a lovely blue.
These polar bears look cuddly but they personally do no like to be hugged, they prefer to keep their distance from humans. They are carnivores and love a hearty breakfast of seals with the occasional diet of salmon if they can get it with the diminishing salmon population. They are lovely creatures to watch in the wild when they play together as a family having fun. Put lots of color in these lively family groups reflecting their togetherness. We humans can learn a lot from this wild creatures.
The male's hairy legs are said to attract females during the mating season in the summer months. Hairy legs are a turn-off but that is human reacting again, isn't it?
You will find polar bears pictures depicted on ice creams wrappings, cereal packets, soft drinks and even jellies. You can even get a comfortable polar bear chair! The Japanese have now developed cuddly polar bears toys with cameras in the eyes, microphones in the head and various other sensors on the skin, so these lovable toys will respond to your touch and voice almost like the real "tamed" polar bear. What fun you could have with these toys, as long as they don't answer you back or become agressive!
They are fast becoming extinct with the planet warming up as their habitat receeds and as humans encroach on their space. You know you can help protect them by adopting one of these lovely animals.
Will you and your children live in a world where North America's bear populations roam free? When you Adopt-a-Bear the answer is yes.
To Print, click on the image you like. A new window will open then press Control+P which will send it to your printer.
---
Polar bears at play, Check out video below

Polar Bear

Polar Bear

Polar Bear

Polar Bear

Polar Bear

Polar Bear

Polar Bear

Polar Bear

Polar Bear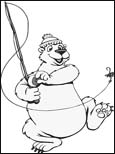 Polar Bear

Polar Bear

Polar Bear