Quick Crafts for Kids to Enjoy and Learn for Winter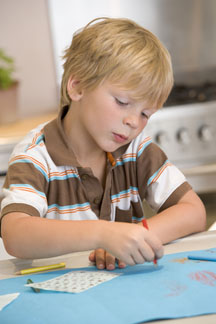 Great Quick Crafts for Kids
Summer is here, (well, it WAS here) and that means your kids will be out of school and looking for something to do. Instead of having them sit in front of the television why not have them create some of the fantastic crafts for kids. Kids crafts are usually fairly affordable, and they can also help to enhance your child's fine motor skills as well as expanding their creative thinking skills. So what are some quick crafts for kids that you can do at home?
Get the pre-made craft kits
Well, your best friend in creating kids crafts is your local craft store. As you wander the aisles you will find many different kids crafts pre-made kits that contain everything that you will need to complete the kids crafts. For busy working parents this option can be really helpful in finding quick crafts for kids.
However not all crafts for kids can be found in pre made packages. One of the best and most inexpensive kids crafts that you can do is to make hand puppets.
Typically for this type of quick crafts you can find supplies around your house. If you have old socks or brown paper lunch bags in the house then you have what you need to get started! From there your child can decorate their puppet with old buttons, construction paper, macaroni, and really anything that they can find around the house. The great thing about this craft in the library of crafts is that you child will have a new toy to play with.
Crafts for kids can truly help to educate your child. One of the biggest issues that our kids are facing is our troubled environment. Why not use your kids crafts to open up a conversation about this?
A great craft option is to buy some inexpensive tubs, some chalkboard paint, and some chalk. Help your child to paint the side of each of the tubs with the chalkboard paint. Once the paint dries have your little one decorate each new 'chalkboard' to indicate which recyclable material should be held in each tub. This is one of the things that can help your child affect their world in a positive way.
Why not look at some macaroni based crafts? Pasta is fairly inexpensive, and it can be the perfect ingredient to inspire quick crafts for kids. Purchase several different colors of dry pasta and set them out in bowls. Then take some yarn, and get your children busy creating a necklace. Or, maybe grab some construction paper and some glue so that your kid can create an artistic masterpiece, but creating a picture made completely of pasta.
Another choice in kiddie's crafts is to teach your child to cross-stitch. Not only will this help them to refine their fine motor skills, but it is a skill that they can take with them through life. The great thing is that once you teach your child the basic technique there are so many different patterns that they can choose from that your child will be able to tailor what they want their craft to be.
It all helps to educate your child
---
Find those creative crafts your children will enjoy!
The truth is that there really is no limit to the options in kids' crafts available. You may need to think outside of the box a bit, but with a little thought you are sure to find kids crafts that are right up your child's alley.
From Quick Crafts for Kids to list of other cool things To Do!