Real Life Vampires and Werewolves
Real Life Vampires Have Arrived
It is close to midnight, there is something lurking in the dark and in the moonlight, its fangs are glinting in the dark, what it can be, a grinning Cheshire cat, a grizzly escaped from the zoo, or real life vampires?
Werewolves, vampires, and bloodsucking monsters, ghosts, banshees and things that go bump in the night, are just imaginary creations to give you goose-bumps, but what fun it would be if they just happened to be around to give more interest to a moonlit night?
We hear stuff like this a lot when we start reading a good vampire book, however over the years we have all come to know that vampires are not real...or are they?
The idea of real life vampires began to come up in ancient times, when people wanted to make sure that their kids didn't go out exploring in the dark. And so stories grew of people who could turn into wolves and take the kids away and they would never be seen again. However the fact is that there is some credence to the tales we have heard throughout life.
One such example is that 10,000 years ago the full moon was the time when both men and animals went hunting. So just imagine that there was one prey, a deer, and then there is a wolf pack and a man pack were both hunting that one deer. You could not imagine that the man would be civilized enough to tell the wolves, "okay boys, you go ahead." Instead, he would snarl and growl trying to scare the wolves away. And if there was a warrior who was really snarly enough and ugly enough to make a wolf think twice, he would be considered to be a brother of the wolves. So he would call himself a wolf-man, wear a wolf skin and act like one. And so the legend of a man turning into a wolf began.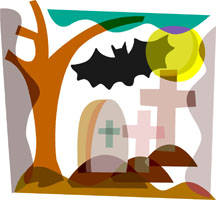 In medieval times the idea of such a warrior who really loved fighting everything and everybody would have people telling stories about him that he drank the blood of his enemies, and then the storyteller would use his creativity to expand his imagination into saying that that warrior ate babies for breakfast or something equally horrible and grisly. And the people around him sat there wide-eyed, believing the storyteller, and kept their babies away from such a warrior's presence.
One such warrior was Vlad, he was the King of the then modern-day Romania. He killed any enemy that rose up against him and then would impale their corpses on spikes. His surname was Draculyea (or son of the Dragon). So there you have the beginnings of a real life vampire. Bram Stoker used that very name for his fictional character Dracula, who goes around drinking people's blood.
Even in this modern day there are real life drinkers of blood. These real life vampires are generally limited to some African tribes who treat their wounded soldiers with a drink that is a mixture of cow's blood, milk and herbs in order to heal them and make them strong enough to fight another day!
Do real life vampires really exist? Of course they do, so be careful when you go out tonight!
Let The Nightmares Begin, Let's hear Your Story Below
---
Have A Great Story To Tell About This?
Do you have a great story about this? Share it! People love to hear these stories!
What Other Visitors Have Said
Click below to see contributions from other visitors to this page...

My Nightmare as a Child

My worst moments as a child was when my father locked me up under the stairwell which was dark and damp. I must have been about six at the time. My mother …
The Only True Nightmare Not rated yet
One of the worst moments in my childhood was when my parents told us that they were going to get a divorce. My brother and I were still in elementary …
My Brother, My Nightmare Not rated yet
I owe most of my worst moments as a child to my brother. We love each other dearly now, and talk all the time, but back when he was two grades ahead of …