Rose Pencil Drawings For Creativity and Fun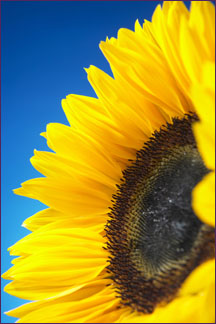 Every flower you see whether that be roses, chrysanthemums, daisies, pansies or any flower—the basic shapes are all based on the sphere or oval especially on rose pencil drawings. As you will see below, all rose petals emanate from a central point from the stem.
I will show you how to make all flowers 3 dimensional, that is, they will have depth instead of a flat 2D image like a line drawing. We'll start off all our drawings in line form which is two-dimensional.
Roses are not perfect geometric or symmetrical but they do follow basic structures like the sphere as you can see in these illustrations. Follow along with these basic rose pencil drawings to master any flower.
Once you have the basic structure, you can modify with more detail to suit the type of rose you'd like to draw. If you follow through on this series, doing each project step-by-step, you will become an expert at drawing anything in pencil. Of course it takes practice and then more practice so you really have to have a passion for drawing. And it takes time, plenty of time to accomplish a great drawing in pencil.
In most of these rose pencil drawings and projects you will practice drawing a complete oval and sphere with one sweep of the hand and wrist! These are the very basics to develop the ability to draw a rose with ease.
Use a grade #2 pencil to start off with and always keep your pencils sharp. This is important to have what can be called a 'clean' drawing, no fuzzy lines. Invest in one of those battery powered sharpeners, it saves you a lot of time and is not so messy.
You do not need any mechanical aid to draw an oval or sphere as these are primary forms for you to 'see' how they fit in with the rose pencil drawings you are going to create.
So do all the exercises freehand please!
When you start, hold the pencil as you normally do when you write. Many artists hold the pencil or paintbrush in the palm of their hand. Find which is more comfortable to make the pencil an extension of you, of your arm.
Most of these drawings and exercises will be done using your imagination, you will not need any references like photos or pictures to guide you—it will all be upstairs in your head! Once you have the basic form in place, you will only have to add the details which are going to be quite simple.
A note about eye level. (There will be more about this in later pages.) One of the most important things about making your drawing look ?right? is your eye level—that is the height at which you observe the rose. See these two drawings below, one is a full view at the top and the other, the oval, is observed at a much lower level.
Steps To Follow in Your Rose Pencil Drawings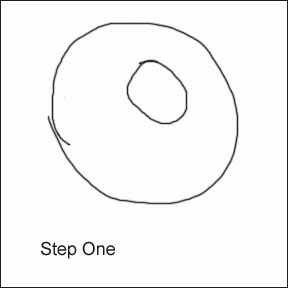 Step One Draw a simple oval shape with a smaller one in the center. Note that it is pointing to the top right corner.

---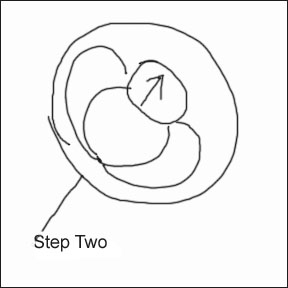 Step Two There is an arrow here to indicate the general direction of the rose. This step and step three, notice that all petals emanate (start) at the bottom but you can't quite see it because it is hidden underneath.
---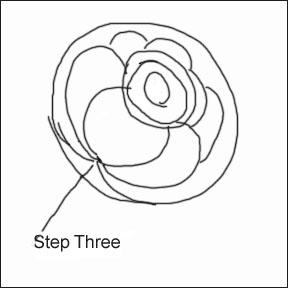 Step Three In this step you draw in the basic shape of the petals, just simple shapes as shown here. Start drawing from the bottom with a swift movement of your pencil towards the top.
---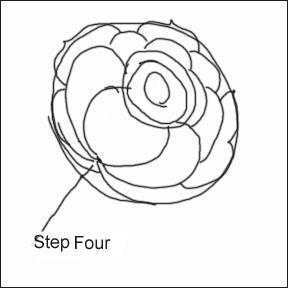 Step Four With this step you can draw in some of the petals with a tip in the middle to show the center topmost part. Also fill in to your basic outline more petals as shown here.
---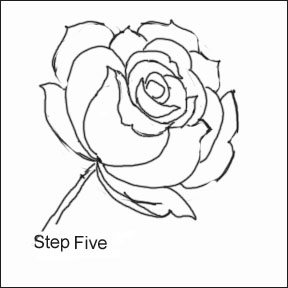 Step Five Here you can start to rub out all the outlines (guidelines) you drew in with Step One and Two.
---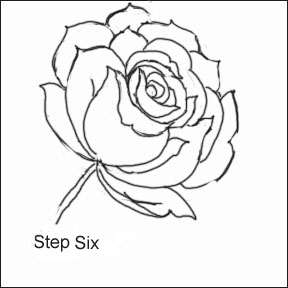 Step Six Draw in additional petals on the outside part of the rose as you can see here. Rub out all the guidelines at this stage.
---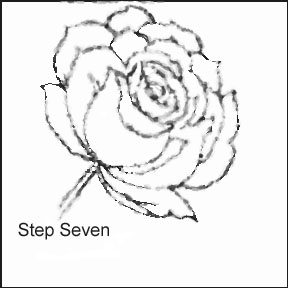 Step Seven To give more texture and subtlety to your rose, make some of your petals more curvy with very slightly serrated edges. You see this on a lot of roses but not all.
---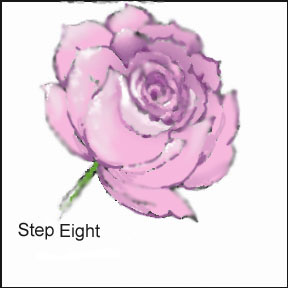 Step Eight Here you can add colors to your rose, your colors can be subtle or not. The center of the rose always appears slightly darket nearer the center.
---