Roses Coloring Pages
You can have a lot of fun coloring in Roses, there's subtlety you can bring in the tone value (the lighter tones to darker ones) which makes roses one of the most popular things to color in.
The soft hues (colors) are fairly easy to capture which makes for a delightful painting—something you can be proud of.
In these roses coloring pages you always start with your lightest colors and gradually add the darker ones, the darkest are always added last. This is simple really. The reason this is done is that you cannot put light colors on top of dark, it does not look good unless the paints or crayons you use are completely opaque—and most aren't.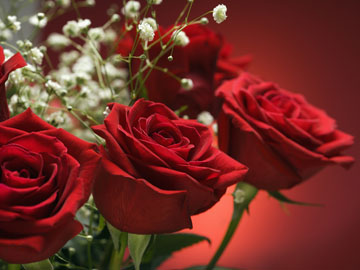 All roses are subtle in color, hue and form. Therefore it is best to use watercolor if you feel comfortable using this medium. It is not easy to use if you are a beginner as it takes patience and has a rather steep learning curve.
Rather start off with pastels or those chalky crayons, not the waxy kind as they do not mix too well.
If you have a little experience with opaque paints I would use them because you can then add dark on light and light on dark. With these poster paints you tend to lose the subtleties using other mediums.
You will discover that most professional artists use a limited palette know as a "basic palette". Your choice of colors is of course a personal preference and can be dauting to discover a vast number of colors available.
There are very basic colors you can use such as Cadmium red, Alizarin crimson, Cadmium yellow, yellow ochre, Burnt sienna, Burnt umber, Viridian, Cobalt blue and Payne's gray. These are the basic minimum where you can achieve almost any color effect so use this palette as a guide for your basic choice.
The colors listed here are only a suggestion, a starting point—as you will find you might like Windsor Blue over Ultramarine.
Another important point is that color pigments have varying transparencies which you can use for wonderful effects. You will discover the subtle layers underneath showing through which can only be obtained by watercolor pigments.
Color can be quite magical in its ability to create a series of emotions in people. That in itself is quite a talent when you can use color to this effect. Add that color talent to a strong visual painting and you have a winner! Try it with these Roses Coloring Pages.
Some of us are lucky in that we can create wonderful color effects added to visual images and you have a knock-out. The rest of us will have to struggle a bit through the learning curve before it begins to look great.
And so with Roses Coloring Pages do start off with something you feel comfortable with; take it slow and deliberate then go fast and loose...the latter here makes for great coloring pages of which you can be proud!
Try some of these flowers to color in below or click on a link for more roses or flowers to color in.
Images of Roses Coloring Pages Click on image to print


For funny stuff check here.
Funny cartoons are a great way to laugh and bring more happiness into your life. Laughter is contagious and so is clean humor found at Family Fun Cartoons.




Enjoy This Site?
Then why not use the button below, to add us to your favorite bookmarking service?



Copyright © 2008-2010 All Rights Reserved Family Fun Cartoons