Teen Friendship Poems and Friends Are My World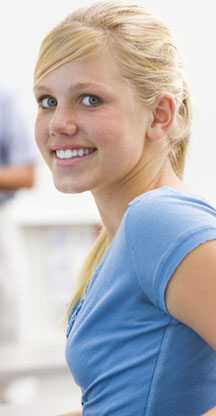 Some teen friendship poems are sweet and nice, addressed to their best friends for life. Their "BFF" or "best friend forever" is usually their sidekick through thick and thin, which can be quite substantial, when it comes to teenage drama, especially girls.
Boys have best friends, but they don't often write friendship poems as often as girls do, unless it is to a "girlfriend" they have a crush on and she asks them to.
Teen poems nowadays make you wonder what kids are up to because the love letters and teen friendship poems they write can sound so grown-up. Some of the friendship poems may mention things like "through thick and thin, I love you to the end. That is why you are my best friend". Sometimes, though they might sound somewhat dark and mysterious to some parents.
You have to realize that teenagers are experimenting with things and sometimes, they might just act like they are to fit into their peer group. That's not to say that there aren't some great friendship poems that show sincere love and caring for the other person, especially their best friend.
To adults, some of the teen poems might be discomforting. Some of the categories of things that teenage friends write for each other can sound like sad country songs made more for adult experiences. Teen poems are a way of offering support for their teenage friends, so this is to be expected, when you think about it.
Overcoming problems like drug abuse and weird, self-destructive habits that they call cutting or "emo" are things that today's teen poems may be about. These strange habits are something that most parents don't know about and wouldn't understand if they found out about them. Other subjects can be depression and a feeling of loneliness can be found in many of the teen friends poems. Most adults might be disheartened to find this type of friendship poems written to their teenager.
The important thing to keep in mind is that teenagers might be experimenting with different things, including sex and relationships, so their poems to their friends can sound more dramatic than you need to worry about, in some cases. In others, you need to take notice if you find particularly "dark" teen poems or have a reason to talk about it with your teen.
You have to realize that most adults probably feel the same way you do-"I am so far removed in age from teens that I would not know what terminology would teens use, what they like to do, what they like - and don't like and even what their friends are like. Sometimes, these teenship poems aren't meant to be understood by adults, but are offered as a poem of support for another teenager.
If you are a teenager, then you know that your friends need your love and support. There is not a more memorable sign of support than writing supportive teen friendship poems. There are so many struggles that teenagers have to deal with today, that a loving friend that offers support and the creative thoughts that a teen friendship poem can offer is invaluable and can earn you a BFF for life.
---


For funny stuff check here.
Funny cartoons are a great way to laugh and bring more happiness into your life. Laughter is contagious and so is clean humor found at Family Fun Cartoons.




Copyright © 2008-2010 All Rights Reserved Family Fun Cartoons