The funniest family moments I had as a child
by Jen Saqarra
(Blue Mountain CO)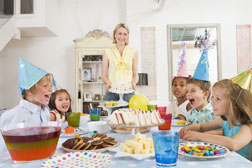 Our Funny Birthday Party
One of the most beautiful memories a child can have of his and her childhood are definitely the ones in which she or he found that sheer moment of magic when the whole family laughs together, in rip roaring bursts of innocent, cannot be controlled laughter.

One of the funniest family moments I remember as a child was when we celebrated the birthday of my little niece.

My sister-in-law had just put the rich chocolate birthday cake on the table. My eldest cousin brother stood his 2-year-old daughter- the birthday girl Tara - on the table, and the next moment the little one had kicked the cake, right in the middle. Grandpa who was leaning in to place the candles in the cake got the full effect of the cake right in his face. The next moment, instead of being aghast, grandpa shouted, "Tara has been launched! Let the party begin!" and everyone, children and adults, grabbed chunks of the cake, and pushed them on the faces of everybody near us.

By the time the party was over, every single dress was ruined, and the dining room needed redecorating. But we still remember how much all of us laughed and we still do when we remember the launching of Tara!

Jen.
Click here to read or post comments
Join in and write your own page! It's easy to do. How? Simply click here to return to Share Your Moments of Family Fun.
---